Lee Quiñones
24 Jun - 24 Sep 2007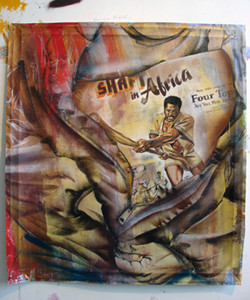 Lee Quinones
Shaft In Africa
All works from the series "Prelude"
1994
Acrylic, pastel pencil, spray paint on canvas
38 x 42 ̋
Courtesy the artist
One of the originators of graffiti and New York street art, Lee Quiñones presents 12 recent paintings inspired by classic 1970s funk and break beat records that form the rhythmic foundation of hip hop. Quiñones depicts the cover art of records that have been consistently sampled by DJs and musicians for the past thirty years. Included are both mainstream tunes like James Brown's "Sex Machine" and lesser known albums like Michael Viner's Incredible Bongo Band, which contains the "Apache" beat that remains ubiquitous in dance music.

Painted as if the records were being tucked into a jacket, the compositions have an outlaw sensibility – as if the music were being pilfered or otherwise disseminated in secret. Imbued with a narrative quality, the works carry the heady optimism of a DJ with the showstopper tune or a graffiti artist with the biggest and boldest tag. Paying homage to sonic forefathers, Quiñones's paintings encapsulate the music and MCs, break dancers and artists at the core of early hip hop culture.

Lee Quiñones (b. 1960, Ponce de Leon, Puerto Rico) has been painting since the 1970s, first on New York City's streets and subway cars, and then shifting to a studio-based practice. He has had numerous solo shows and has exhibited internationally, first at Galleria La Medusa, Rome in 1979. Quiñones was featured in P.S.1's 1981 exhibition New York/New Wave and was also included in East Village USA at the New Museum of Contemporary Art (2005). In 1981 he was featured in the influential break dancing film Wild Style. Quiñones lives and works in Brooklyn, NY.

Lee Quiñones is organized by P.S.1 Director Alanna Heiss.