Loris Cecchini
Cloudless
29 Oct 2006 - 16 Apr 2007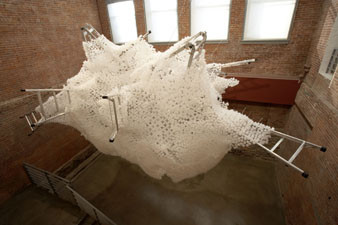 Installation view of the P.S. 1 exhibition "Loris Cecchini: Cloudless"
October 29, 2006–January 29, 2007. INPS1.950.1
P.S.1 is pleased to present Cloudless (2006), a large-scale installation by Italian artist Loris Cecchini. For this project, the artist will suspend an enormous biomorphic white form high above the floor in P.S.1's Duplex gallery. Cloudless is on view from October 29, 2006 through April 16, 2007.

Comprised of thousands of plastic balls surrounding an internal framework of aluminum ladders, the work continues Cecchini's investigation of how space is defined. Utilizing a formal vocabulary and lines of inquiry reminiscent of architects like Elizabeth Diller and Ricardo Scofidio, Cecchini creates a nearly abstract, voluminous mass, evoking a weightless body of epic proportions. The resulting form refers specifically to a cloud but, as such, is also open to a wide variety of other interpretations. With Cloudless, Cecchini investigates the borders between the natural and the artificial, and the relationships that human perception and cognition have to these divisions.

Loris Cecchini (b. 1969) works in a variety of media including photography, sculpture, drawing, and installation. His work re-examines the broad notion of the "model" by reworking familiar, everyday forms into a modified vision that challenges the viewer's perceptions. Trained in Siena, Florence, and Milan, Cecchini began exhibiting internationally in 1995 and has since had numerous solo shows in Italy and elsewhere in Europe and in Asia. He lives and works in Prato and Beijing.

Organized for P.S.1 by Director Alanna Heiss, Cloudless was previously installed at Galleria Continua in Beijing and at the Shanghai Duolun MOMA. It will travel in January 2007 to the Palais de Tokyo in Paris and in May 2007 to the Villa Medici in Rome.