Peter Young
1963 - 1977
24 May - 24 Sep 2007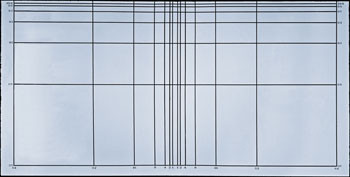 © Peter Young, #2, 1966
Acrylic on canvas
72 x 144 inches
Collection Ludwig Forum for International Art, Aachen. Photo: Anne Gold
P.S.1 is proud to present a retrospective and the first solo exhibition in a U.S. museum of the renowned American abstract painter Peter Young. Comprising some 25 works, the exhibition surveys Young's career from 1963 to 1977. The exhibition is on view in the Second Floor Main gallery.

Young has explored the potential for organic elements in abstract painting since the early 1960s. His series of works are based on grids, circles, horizontal lines, curvilinear forms, mandalas, and most prominently, colorful dots. The seemingly rigorous geometric forms reveal a handmade quality that, when observed closely, blends the mathematical with the improvised to generate an unforeseen feeling of intimacy.

Approaching the restraint and regularity of minimalism with a certain satirical sense, Young invents his own decorative motifs, drawing inspiration from Neo-impressionist pointillism, 1950s Action Painting, Costa Rican art, and Oaxacan weaving. Some canvases are stretched on uneven Ponderosa Pine branches, while others are folded to produce Rorschach patterns. Some abandon the canvas format all together and consist solely of acrylic beads, produced from paint and cut in cross-section to reveal differently colored layers.

Peter Young (b. 1940, Pittsburgh, Pennsylvania) has exhibited his work internationally since 1968, including at Nicholas Wilder Gallery, Richard Bellamy's Oil and Steel Gallery, and Leo Castelli Gallery. His paintings are in numerous public and private collections including the Albright-Knox Museum, the National Gallery of Australia, Charles Cowles Collection, Arnold Glimcher Collection, Guggenheim Museum, The Museum of Modern Art, the Whitney Museum of American Art, and American University Museum. Since 1972, Young has lived in Bisbee, Arizona.

Peter Young is co-organized by P.S.1 Director Alanna Heiss and the PARC Foundation Director David Deutsch.

This exhibition is made possible with generous support from the PARC Foundation.