Redaction
A Project by Titus Kaphar and Reginald Dwayne Betts
31 Mar - 05 May 2019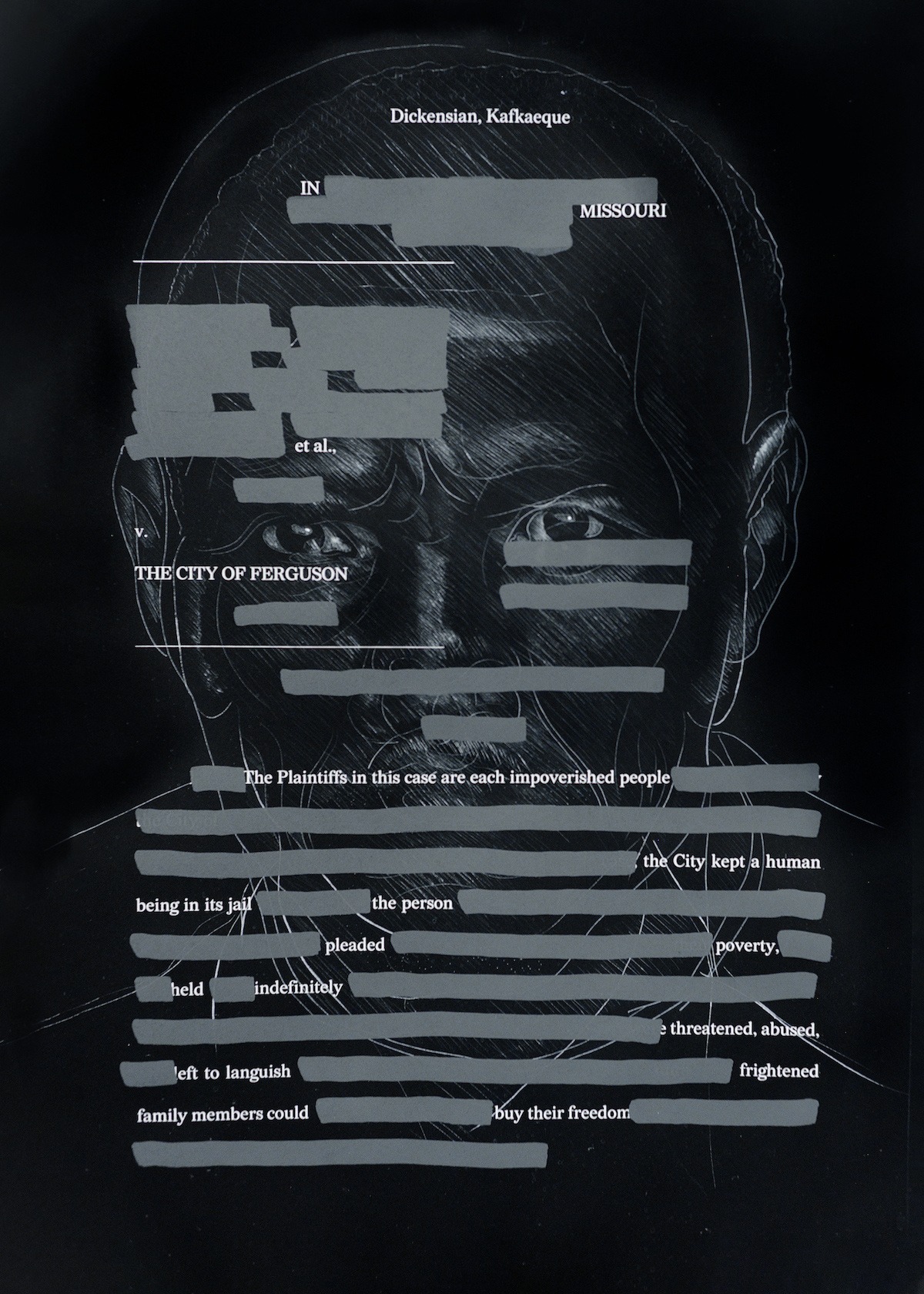 Titus Kaphar and Reginald Dwayne Betts. Untitled (from the Redaction project). 2019. Etching
and silkscreen on paper, 22 x 30". Image courtesy Titus Kaphar Studio. Photo: Merik Goma
Throughout their careers, visual artist and filmmaker Titus Kaphar and memoirist, poet, and attorney Reginald Dwayne Betts have used their varied mediums to confront the abuses of the criminal justice system. The print portfolio The Redaction, their first artistic collaboration, advances this work by focusing on the ways that state and federal court systems exploit and erase the poor and incarcerated from public consciousness. The project draws inspiration and source material from the lawsuits filed by the Civil Rights Corps (CRC) on behalf of people incarcerated because of an inability to pay court fines and fees. Betts mobilizes the legal strategy of redaction to craft poetry out of their complaints, while Kaphar uses printmaking techniques to etch portraits of these individuals under the redacted texts. Taking place at MoMA PS1 throughout the month of April, the exhibition marks the first-ever public installation of The Redaction, and seeks to create a platform for a multiplicity of conversations—about art, poetry, and practical legal questions—that can influence outcomes and reflect current conversations around the issue of criminal justice reform.

Organized by Sarah Suzuki, Curator, Department of Drawings and Prints, The Museum of Modern Art; with Jocelyn Miller, Assistant Curator, MoMA PS1.

The program of accompanying events is organized by Reginald Dwayne Betts in collaboration with Taja Cheek, Assistant Curator, and Alex Sloane, Assistant Curator, MoMA PS1.

This exhibition is a part of Spring 2019.