Senso Unico
A show of eight contemporary Italian artists
21 Oct 2007 - 07 Jan 2008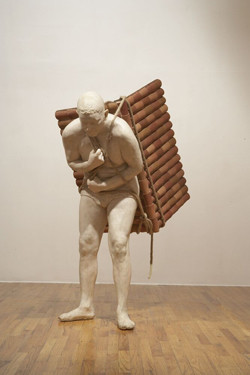 Adrian Paci, Home to Go, 2001, Grounded marble, resin, brick, wood, soap. 65 x 35 3/8 x 47 1/4 in. Courtesy Peter Blum Gallery, New York. Photo by Matthew Septimus
P.S.1 Contemporary Art Center presents Senso Unico, a selection of Italian artists who have maintained a prominent presence in the international contemporary art world over the past decade. Senso Unico will take an intimate look at the work of eight influential figures: Vanessa Beecroft, Paolo Canevari, Angelo Filomeno, Rä di Martino, Adrian Paci, Paola Pivi, Pietro Roccasalva and Francesco Vezzoli. Not defined by a particular artistic school or movement, these artists and their distinct oeuvre will be brought together for the first time in a presentation of unique talent from Italy. Central works in the exhibition include Paola Pivi's extraordinary grizzly bear which instead of fur has yellow feathers; the U.S. premiere of Francesco Vezzoli's acclaimed MARLENE REDUX: A True Hollywood Story! displayed in the P.S.1 vault; Continents (2005), a video projection by Paolo Canevari; two luminous and ghostly portraits by Vanessa Beecroft; the Vangelo secondo Pasolini painting series by Adrian Paci, and a moving video projection by Rä di Martino. Pietro Roccasalva will recreate an installation of two magical rooms, and Angelo Filomeno will present a diptych of embroidered paintings as well as two spectacular feathered helmet sculptures. This exhibition will be on view in the First Floor Main Gallery and Basement Vault from October 21, 2007 through January 14, 2008.

Senso Unico is a unique continuation of P.S.1's long tradition of articulating key moments in contemporary Italian art. Previous group exhibitions include The Knot: Arte Povera (1981) and Minimalia: An Italian Vision in 20th Century Art (1999). Retrospectives of such individuals as Michelango Pistoletto (1989) and Massimo Bartolini (2001), in addition to the Italian Studio Program (2000/2002), have brought into focus both major Italian artists and emerging talents. Presenting Italy's most vibrant and challenging work to the P.S.1 audience, Senso Unico will bring to light the nation's extraordinary contributions to the contemporary art world.

Senso Unico: A show of eight contemporary Italian artists is curated by P.S.1 Director Alanna Heiss.

Senso Unico is organized by P.S.1 Contemporary Art Center in collaboration with The Foundation for Italian Art and Culture.

The exhibition is made possible by The Alexander Bodini Foundation, Mrs. Terry Allen Kramer, Enzo Viscusi, and The International Council of The Museum of Modern Art with additional support from The Contemporary Arts Council of The Museum of Modern Art, Gilberto and Rosa Sandretto, Patricia Phelps de Cisneros, Il Gattopardo, The Italian Cultural Institute of New York, and DARC - Directorate-General for Contemporary Architecture and Art of the Italian Ministry for Cultural Heritage and Activities.