Tunga
20 May 2007 - 07 Jan 2008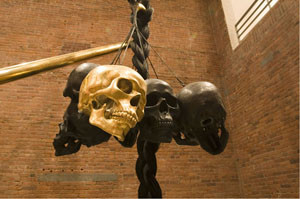 Tunga
À la Lumiere des Deux Mondes (At the Light of Both Worlds)
2005
Mixed media
Courtesy the artist and Luhring Augustine, New York
Photo by Octavio Schipper
TUNGA

P.S.1 is pleased to present a dreamlike environment conceived by the Brazilian artist Tunga. À la Lumiere des Deux Mondes (At the Light of Both Worlds) (2005) is on view through January 7, 2008.


Presented in P.S.1's Duplex Gallery, À la Lumiere des Deux Mondes (At the Light of Both Worlds) is a massive suspended assemblage that entombs talismanic objects with ornate theatricality. Beneath three oversized iron canes, a distended skeleton, gilded comb, and bundled skulls cascade from long tresses of black metal wire. Also sheathed in mesh are bronze replicas of Classical sculptural heads from the collection of the Musee du Louvre in Paris, where the installation was shown in 2005. Implicit in this delicate balance is a visceral meditation on vanitas and the equilibrium of life and death.

Tunga (b. 1952) belongs to a generation of Brazilian artists who rose to prominence after the pioneering work of Hélio Oiticia and Lygia Clark. Working in performance, installation, sculpture, video, and poetry, he has been making art for over thirty years and has exhibited internationally, including the 1995 and 2001 Venice Biennales, Documenta X (1997), Biennale of Kwangju (2000), and the16th International Bienal of Sao Paulo (1981). He was also featured in the 2001 exhibition Brazil: Body & Soul at the Guggenheim Museum and has had solo exhibitions at Luhring Augustine, New York; Musee du Louvre, Paris; Whitechapel Gallery, London; Stedelijk Museum, Amsterdam; Museum of Contemporary Art, Chicago; MARCO, Museum of Contemporary Art, Monterrey, Mexico; and Centro Cultural Banco do Brasil, Sao Paulo and Brasilia; among others. Tunga was a finalist for the Hugo Boss Prize 2000.