Raphael Hefti
16 Mar - 19 Apr 2014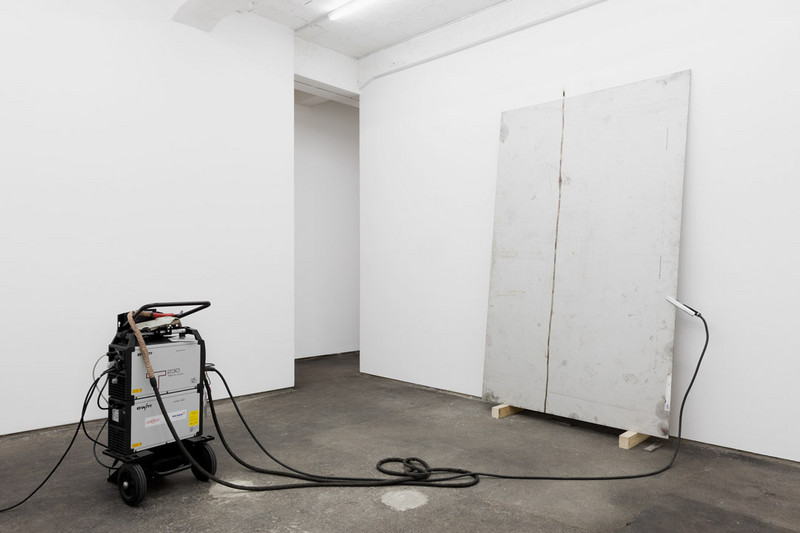 © Raphael Hefti
Raw Draw, 2014
Modified TIG welding, stainless steel plate
300 x 180 x 1,8 cm
photo: Gunnar Meier
RAPHAEL HEFTI
Raw Draw
16 March – 19 April 2014

Raphael Hefti's work engages the boundaries of the art object through an intense involvement with a transdisciplinary experimental process. Science, manufacturing and art are simply categories that Hefti negotiates in his attempts to realise strange visions and transformations at the boundaries of materials. His work straddles a divide between industrial manufacturing processes and the historical concept of the artist. His approach is empirical, but eccentric rather than rigorous, resulting in often dazzling (and sometimes catastrophic) effects that subvert and repurpose pragmatic techniques and common substances.

For Hefti, the gorgeous and seductive surfaces that appear in the gallery setting almost always involve a complex and extended relationship with professionals drawn from Switzerland's high-tech industrial manufacturing sectors. This process is neither 'outsourcing' nor 'collaboration'. Rather, Hefti engages the expertise of others in order to augment his imagination -- pushing an idea that exploits faults, failures or unintended uses of some the most ubiquitous contemporary materials such as steel and glass.

For his debut solo show with RaebervonStenglin, the artist allows the viewer into the often-concealed mechanics of his works fabrication - wilfully complicating the traditional distinction between process and finished work. This perspective also allows the viewer to get closer to the artist's moments of inspiration - often on a factory yard - where raw materials are encountered and the imagination begins to work. In this respect, the role traditionally played by drawing, as a test or preparation - is shifted to a massive scale. The artist has acquired over 30,000 kg of raw aluminium, a material used in innumerable everyday products, but rarely seen by the general public in the massive block format, which it is transported and traded on a global marketplace. Bearing its technical and commercial markings sprayed and printed onto their sides, this commodity state anticipates a million pop cans, and maybe even an airplane. The estrangement of the familiar is a statement of pure potential and an intervention into the materials life cycle. After the gallery it will again exist as structural potential. Like gold, its value is both produced and transformed by its movement from one realm of object to another.

In the second space the artist has invited master welder Bruno Michel to produce a drawing in a steel plate via a 'bad' technique that Hefti has imagined in order to draw out the rainbow colours inherent in the steel, but only produced with an unusual amount of certain gasses added to the process. This drawing acts as an analogue of the mental drawing apparent in the raw aluminium blocks. Unexpectedly, elements of danger and vanity are entwined in this raw draw: while looking directly at the UV saturated light released from the welding process could cause blindness, standing back and soaking it up might give you a tan.

Born 1978 in Biel-Bienne, Switzerland, Raphael Hefti is an artist based in London and Zurich. He received his MFA from the Slade School of Fine Art in 2011. Recent solo and group exhibitions include CAPC Bordeaux, White Cube Gallery, Camden Arts Centre, Museum Van Beuningen Rotterdam, Kunsthalle Basel, Ancient&Modern, Fluxia Milan, SALTS Basel and others. He also co-directs with Megan Rooney and Paul Kneale the London project space Library+. He is currently producing the Pleasure Principles program together with Paul Kneale at the Fondation Galeries Lafayette in Paris. At the beginning of April there will be the inauguration of his roof as a permanent art installation at the new museum Fondation Vincent Van Gogh in Arles. In May there will be his Manor prize solo show at Centre PasquArt in Biel/Bienne.