Dave McKenzie
24 Apr - 15 Jun 2008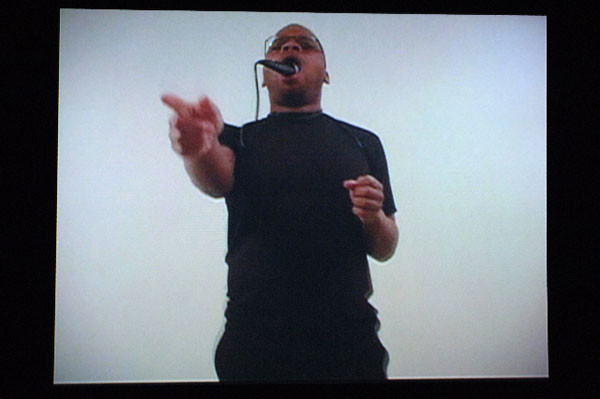 Dave McKenzie, still from Babel, 2006, video of performance, 15:00 minutes, Gallery 40000, Chicago, courtesy the artist
DAVE MCKENZIE
April 24 - June 15, 2008
Opening reception: Wednesday, April 23, 6:00 - 9:00 pm

Through video, performance, sculpture, and installation, Dave McKenzie's diverse practice explores notions of public space and cultural exchange in relation to the private self. For his work While Supplies Last (2003) at the Sculpture Center, the artist wore a large head of his own likeness, becoming a caricature of himself. During the exhibition, he gave away "bobble-head" sculptures of himself to visitors, materializing transactions between the body and the social spheres in which it inhabits. For McKenzie, each sculpture is like a handshake that can be accepted or rejected–a moment to say, "Hello, I am here!" and an excuse to interact with other people. This desire to offer himself as an artist continues in his 2004 work It's a Date, in which McKenzie shared dinner with gallery visitors who signed up to meet with him, and his ongoing work for the Whitney Museum of American Art's I.P.O. For this project, McKenzie distributed a pre-printed date book noting his whereabouts for the coming year and offering his audience opportunities to meet him at specified locations, dates, and times.

Born 1977 in Kingston, Jamaica, Dave McKenzie graduated from the University of the Arts in Philadelphia and has participated in residencies at the Skowhegan School of Painting and Sculpture, P.S.1 National Studio Program and the Studio Museum in Harlem. He has presented solo exhibitions at Small A Projects, Portland; Gallery 40000, Chicago; and Savage Art Resources, Portland. His work has also been included in Freestyle, Studio Museum in Harlem; Queens International, Queens Museum of Art; 24/7, Contemporary Art Centre, Vilnius; and Listening to New Voices, and P.S.1 Contemporary Art Center, New York. McKenzie was the recipient of the 2005 William H. Johnson Prize. He lives and works in Brooklyn.