Small Museum for the American Metaphor
27 Sep - 30 Nov 2014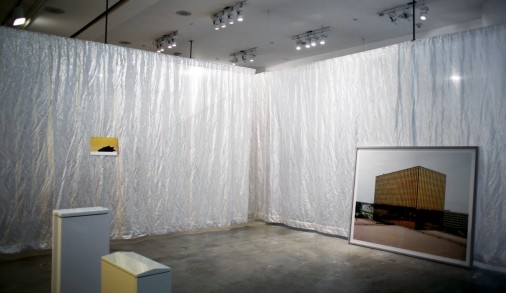 Small Museum for the American Metaphor, installation view at REDCAT, Los Angeles, 2014. Photo: Luisa Lambri
SMALL MUSEUM FOR THE AMERICAN METAPHOR
27 September - 30 November 2014

From September 27 to November 23, 2014, the Gallery at REDCAT will present Small Museum for the American Metaphor, an exhibition curated by Belgian architect Kersten Geers in collaboration with the Gallery at REDCAT Director Ruth Estevez.

Small Museum for the American Metaphor is an exhibition which brings together European perspectives on the American West, and more specifically, the particularities embedded in the idealized fictions surrounding it. The visual argument here is that there is a certain architectonic "idea" that dwells on the celebration of Endlessness as mythicized in the American West. The metaphor is the base for an architecture that blurs the distinction between building and object, collapsing the different scales. It is an architecture that celebrates the fiction of the "wide open" and seeks to re-evaluate/reinterpret the world as a gigantic interior. In that context, a successful intervention is able to define hierarchies, carve out places, and make shared points of reference. The exhibition, much in the tradition of showcasing objects in a defined space, such as a cabinet, "collects"artworks, architectural models, drawings and other elements that consciously fade the distinction between object and representation.

Ultimately it is a show on urban strategies, but starting from the conviction that these very strategies can only be conveyed if presented in an oblique way. The show proposes a method that understands beauty and hedonism not so much as the enemy of hierarchy and organization, but despite all senses of responsibility, its driving force.

The exhibition includes works from artists and designers such as John Baldessari, Koenraad Dedobbeleer, Jos de Gruyter & Harald Thys, Stefano Graziani, Rita McBride, Valérie Mannaerts, Jonathan Muecke, Jonathan Olivares, Manfred Pernice, Bas Princen, Ed Ruscha, Ettore Sottsass, Michaël Van den Abeele, Richard Venlet, Pieter Vermeersch, Peter Wächtler and Christopher Williams, as well as models of past and present architectures of the "big box".

Kersten Geers (b. 1975, Ghent) studied at the University of Ghent and at the Escuela Técnica Superior de Arquitectura in Madrid, Spain. He worked in Rotterdam for Maxwan/Max.1 Architects until 2001 and from 2001 to 2005 for Neutelings Riedijk Architects. He was a tutor at the TU Delft, the University of Ghent and the Accademia di Architettura di Mendrisio, and a guest lecturer and guest critic for the Berlage Institute in Rotterdam, and Columbia University in New York, among other institutions. He is founding member and editor of San Rocco magazine, and frequently publishes essays on architecture in a variety of magazines and books. In 2002 he founded Office Kersten Geers David Van Severen together with David Van Severen. In 2008 they were awarded with the Belgian Prize for Architecture and in 2010 with the Silver Lion at the 12th Venice Biennial of Architecture.