Christodoulos Panayiotou
23 Nov 2012 - 19 Jan 2013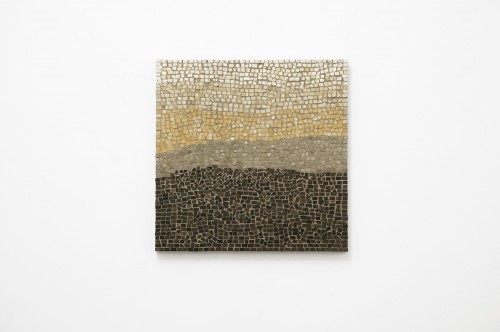 © Christodoulos Panayiotou
Untitled, 2012
mosaic, natural stones wooden base
40 x 40 cm
Photo: Serkan Taycan
CHRISTODOULOS PANAYIOTOU
Tenuto
23 November 2012 - 19 January 2013

Rodeo is very happy to announce Christodoulos Panayiotou's second exhibition at the gallery.
The exhibition is composed by various elements that repeat in the rooms; a work that remains from the previous exhibition at the same position, as Tenuto is a musical term that signifies the prolongation of a moment, the pause as an act of contemplation before what is about to follow and what precedes it. And this is how the works unravel from one room to another.
The craftsman returns as a mediator and produces things that become objects as words or musical tones to be constructed as a symphony. The golden gilded monochromes that abstract the standardized tradition of Byzantine iconography are echoing in the space. The ceramic pots are produced in the Mediterranean tradition, the Cypriot one. The artist has replaced in the process the pumping water with seawater and the pots become in the installation scattered sculptural elements in various forms and shapes. The earthy horizons Panayiotou has created by reassembling existing replicas of representational mosaics fabricated in Syria become abstract fields. The suit he has had made on him by a local tailor is an autobiographical relic from a ceremony that will never happen and since it's been made it will never be worn. Wrapped in newspapers and on the floor lie short lived church wish candles that were to become new ones as the material's life would keep on circulating within a commercial process.
An earlier commission by CAC, Brétigny, the hot pink colored glass window comes after the pink color that was initially introduced "to symbolize love and sexuality" in the rainbow flag created by Gilbert Baker in 1978 for the LGBT movement. The color disappeared from the standardized flag adopted by the community due to the rapid shortage of the pink fabric and Panayiotou brings it back in the form of sunlight that hits the room of the gallery in the morning hours.
Christodoulos Panayiotou (b. Limassol, 1978) lives and works in Paris and Berlin. Recent solo exhibitions have been held at CAC Bétigny (2012), Contemporary Art Museum St. Louis (2012), Kunsthalle Zurich (2010), Cubitt, London (2010). He has shown seminal works recently in dOKUMENTA 13, Kassel (2012), CCA Wattis, San Francisco (2012), Frankurten Kunstverein (2012), Joan Miro Foundation, Barcelona (2011) and twice at Witte De With, Rotterdam (2011), Home Works 5, Ashkal Alwan, Beirut (2010) amongst many other places. He has been awarded the Future of Europe Prize (2011) and the DESTE Prize (2005).