Emre Hüner
09 Mar - 02 May 2013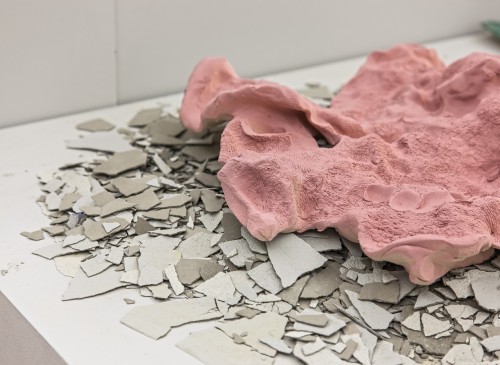 © Emre Hüner
Installation view, Anthropophagy (2013)
installation on wooden bases with ceramics, metal elements
dimensions variable
Photo: Rıdvan Bayrakoğlu
EMRE HÜNER
Aeolian
9 March – 2 May 2013

Rodeo is very happy to presentAEOLIAN, the second solo exhibition of Emre Hüner.
Conceived in conjunction with a parallel exhibition at Nesrin Esirtgen's space*, the two while being independent from one another function as an enlarged universe of a body of work that Hüner has been building in the past few years.
In a journey following his trip in the Amazon in quest of a fallen Ford factory town, aka Fordlandia, he was invited to Shangri-La, the villa of Doris Duke to spend some time in Hawaii. The work in this exhibition derives from this trip in exotica seduced by the story of another American industrialist, whose presence there has had a significant impact, volcanoes,waves and architecture in decomposition.
In his travels, he collects images, visits geological sites and while fascinated by natural formations it is upon return that everything takes shape. His ceramic formations feel like in constant flux and not at all as solid monumental objects; they become a constellation of memories and inspirations in abstraction; references that he carries within him in an endless archive that does not need to be listed. The different textures, colors and shapes could signify different sources, a very personal classification of origin, a free process that binds the elements together and creates a symphony of differences like one only finds in nature; an archaeology comprised of technological, zoological as well as geological fragments.
The proposed model of the villa from the late '20s was carried back and broken and Emre shot in 16mm along with other ceramic elements, all abstracted and floating in a blue background. The idea of a model is crucial since it returns again and again; there are successful ones but also ones that stayed unrealized. A big sculpture dominates the entry space of the gallery, possibly model of an aircraft's part siting atop a grey base structured by square tiles, a base that could be referring to postmodern architecture, interior modernist design or the preciousness of a swimming pool in a tropical forest.
Emre Hüner's (b.1977, Istanbul) recent solo exhibitions include SALT 6 (2012), Utah Museum of Fine Arts, Salt Lake City, Extra City, Antwerp (2010) and group exhibitons Manifesta 9, Belgium (2012), Out of Here, Vanabbemuseum, Eindhoven (2011), Paradise Lost, Istanbul Modern (2011), Nobody's Propery: Art, Land, Space, Princeton University Art Museum (2010), Code Share, CAC Vilnius (2010), The Generational: Younger Than Jesus, New Museum (2009), 6th Asia Pacific Triennial, Queensland.