Shahryar Nashat
28 Oct - 12 Dec 2011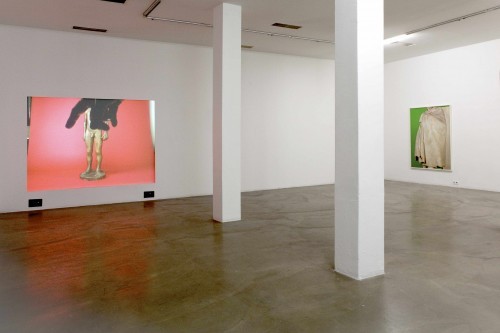 Installation View, One Stop Jock with (left) TODAY (2010), HD video ,color, sound ,6'2" and (right) Crop Jock.
SHAHRYAR NASHAT
One Stop Jock
28 October - 12 December, 2011

Rodeo is very happy to announce the first solo exhibition of Shahryar Nashat (b. Geneva 1975) -One Stop Jock - at the gallery.
The sculpture of a Young Athlete (1st cent. BC) that is part of the collection of the Archaeological Museum in Istanbul, is brought into Nashat's new compendium of mediated artworks by way of a conflict. This "cloaked boy" was chosen to be photographed by the artist as it poses a challenge to the classical representation and reception of masculinity within Greco-Roman sculpture. The boy is so many things at once: masculinely defiant in the arm and the cloak; childishly resigned to the world in a down-turned face; and nonchalant in the legs and leaning.
This reveals a contradiction in the boy's behavioral conveyance, on the one hand he is appropriating power and yet he is dominated by it. Compounding this sense of erotic power play is the fact that his physique is partially concealed. Like a few rare and marginal examples of works made during the Roman period, he possesses "meanings that were not only aesthetic or historical but also social and sexual. Charged erotically but at odds with traditional ideals of Roman masculinity, these statues have challenged the virile ideal that has long dominated our conceptions of male sexual identity and behavior in the Roman world." (Elizabeth Bartman)
Today (2010) was produced on the occasion of the exhibition Silberkuppe: Old Ideas, held at the Museum of Contemporary Art, Basel. The work involved some of the museum's staff and two sculptures by Swiss artist Karl Geiser (1898-1957) never previously exhibited in the museum's collection. Geiser was similarly challenging the conventional representation of masculinity during the late 1930s. His sculptural style clashed with the predominant classical figurative tradition, choosing rather to depict people in a socio-realist style, extending their representative physiques into social functionality (cyclist, postman, farmer etc).
Both Geiser's sculptures and the Cloaked Boy actively try to resist sexual objectification, whilst they admit that they can never escape it. The green chroma key backdrop awakens the potential of the viewer's desirous projections onto the artwork, whilst the queerly decorated plinth obstructs the traditional foundation on which the sculpture should be situated. Nashat's work combines museological fantasies and experimentations and gives the parerga that surround the work (the title of the work, the edition number, the source of the sound, the statue's plinth) the attention one would give to the work itself. They become the work.