Dale Frank
28 Aug - 22 Sep 2007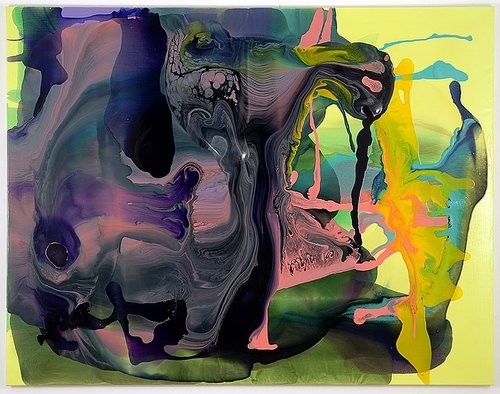 © Dale Frank
10. The Unattended Funeral where a beautiful soul masks a stranger stronger indifference, 2007
varnish on canvas
200 × 260cm
DALE FRANK
"Sore Throat"

Exhibition opening: Tuesday 28 August, 6 - 8pm
Exhibition dates: 28 August – 22 September, 2007

Dale Frank

Sore Throat

Dale Frank's highly conceptualized abstractions convey an overriding fascination with the inherent plasticity of paint. Seductive poured pockets of varnish are punctuated by creeping, undulating accumulations of colour. These sometimes hallucinatory oscillations typify Frank's paintings as evidenced in Sore Throat.
Executed without a brush in pure varnish, the beguiling spilling of paint into pooled, organic forms belies Frank's meticulous choreography of temperature and colour. Both technician and alchemist, Frank's process is entirely cerebral. He begins by working on a canvas horizontally, pouring successive layers upon the prime surface whilst carefully controlling humidity and density (along with drying and reaction times). The contradictions of movement and stasis are necessary elements of the work's production; wedges and blocks are placed beneath the paintings and they are repeatedly angled to create desired effects.
Frank creates an exquisite tension between surface, depth and content manifest in his union of abstract paintings with elaborate titles. While their relationship to the paintings may seem ambiguous, they strongly influence the viewer's response. Frank observes; '...People read things into them. There is electricity when they try to connect them to the paintings. You get a current going between the title, the viewer and the work. Sometimes it induces in people associations I would never have dreamed of.'

Serena Bentley

Dale Frank has been showing with Roslyn Oxley9 Gallery since 1982. His career spans more than twenty years. In 1983, he was included in the exhibition Panorama della post - critica: critica ed arte at the Museo Palazzo Lanfranchi in Pisa along with Thomas Lawson and Anselm Kiefer (curated by Helena Kontova). In 1984 he was included in the Aperto section of the Venice Biennale. Returning to Australia, in 1990 he was included in the 8th Biennale of Sydney (curated by Rene Block). A major solo retrospective of his work was held at the Museum of Contemporary Art, Sydney in 2000. His paintings are held in every major public collection in Australia and in numerous private and corporate collections in Australia, Europe and the U.S.. In 2005 Frank won The Arthur Guy Memorial Painting Prize at the Bendigo Art Gallery, Victoria. A major new monograph on Frank's work will be available in late 2007.