Dale Frank
11 Feb - 06 Mar 2010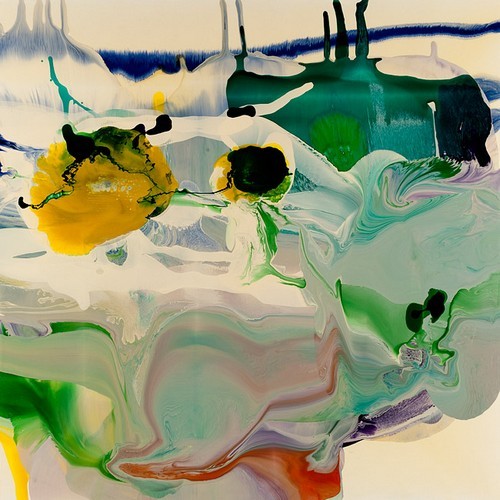 © Dale Frank
20. Passing the half way mark. He had forgotten to tell them to feed Famous and the cats, surely they would notice to, criss crossing the staff and their own shifts in power living., 2009
varnish on canvas
200 × 200cm
DALE FRANK
"Ice Age"
Exhibition opening: Thursday 11 February, 6 - 8pm
Exhibition dates: 11 February – 6 March 2010
Gallery hours: Tuesday - Friday 10am - 6pm, Saturday 11am - 6pm
Twenty nine paintings were supposed to say something through their titles if not through their reason for being; twenty nine went onto the truck. Out of how many, seventy, well, forty six. Others could not be counted. But one was an actor, so there were really only twenty eight., 2009
_______________________
Dale Frank is one of Australia's foremost contemporary painters. His career spans over thirty years. In 1983, he was included in the exhibition 'Panorama della post - critica: critica ed arte at the Museo Palazzo Lanfranchi in Pisa along with Thomas Lawson and Anselm Kiefer (curated by Helena Kontova)'. In 1984 he was included in the Aperto section of the Venice Biennale. Returning to Australia, in 1990 he was included in the 8th Biennale of Sydney (curated by Rene Block). A major solo retrospective of his work was held at the Museum of Contemporary Art, Sydney in 2000. Frank was included in the important recent survey exhibition, 'Contemporary Australia: Optimism' at the Queensland Art Gallery / Gallery of Modern Art in 2008. His paintings are held in every major public collection in Australia and in numerous private and corporate collections in Australia, Europe and the U.S. In 2005 Frank won The Arthur Guy Memorial Painting Prize at the Bendigo Art Gallery, Victoria. A major new monograph on Frank's work 'So Far: the Art of Dale Frank 2005-1980' was published in 2007. Frank has been selected for the 2010 Biennale of Sydney 'The Beauty of Distance, Songs of Survival in a Precarious Age', curated by David Elliott. Dale Frank has been exhibiting with Roslyn Oxley9 Gallery since 1982.
For Dale Frank's full CV, please refer to our website:
www.roslynoxley9.com.au