Francesca Dimattio
17 Mar - 21 Apr 2012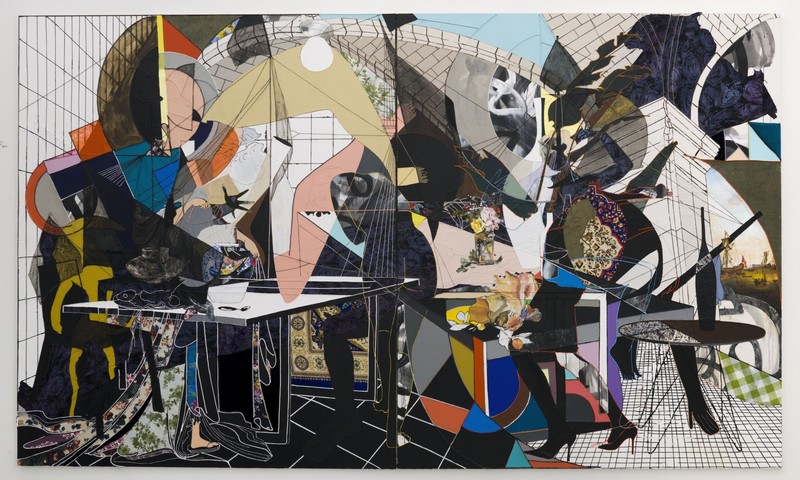 © Francesca Dimattio
Guilloche, 2012
Oil, Acrylic, And Collage On Canvas
108 X 180 Inches (274.3 X 457.2 Cm)
FRANCESCA DIMATTIO
Table Setting And Flower Arranging
17 March – 21 April, 2012

Salon 94 is pleased to present a solo exhibition of New York based painter and sculptor Francesca DiMattio. This is the artist's third show with the gallery, and the first to present DiMattio's signature paintings in dialogue with her new ceramic sculpture.

DiMattio's investigations into the hierarchies of painting have long dominated her work. Using the canvas as her de-facto stage, she creates intricately layered scenes where architecture, furnishings, and figures collide in a continually shifting plane. Her works are structured like post-modern quilts. Space and subject are carved out by juxtaposing different swatches of color, pattern, and form into a fragmented, but choreographed whole. No priority is given to one style of painting over another, and the artist moves freely between illusionism, figuration and abstraction with seeming abandon. The interweaving and entangling of different painterly styles is further intensified by DiMattio's inclusion of multiple objects—chairs, animals, flowers in still-life—that cut cross art-historical genres, historical eras and cultural currents.

In her new body of work, DiMattio brings her focus to the still life and domestic interior, transforming the once intimate genre painting into grand, contrapunctal murals. Architectural motifs are fractured and combined with expansive areas of color, both flat and textured, to create an added dynamism to the artist's illusionist canvases. Each work is composed of overlapping rope drawings which serve to delineate space—flat and deep—and to suture disparate imagery together. The inclusion of collaged elements such as textiles and plastic shopping bags further activates the space while accentuating the domesticity of the subject.

DiMattio's new multi-faceted ceramic sculptures fluctuate between illusionism and abstraction, high art and craft. Made from handmade porcelain vessels that the artist melds together into a contorted whole, each sculpture embodies DiMattio's interest in the everyday object as a means to explore shifting ideas of beauty, femininity, and art. Every angle reveals a different firing and glazing technique from finely painted gold luster to the more expressionistic lava crackle. One can easily find an arrangement of carefully articulated china painted roses next to a dripping hire-fire flowing glaze, or a finely modeled slip cast vase grafted onto a more free-form hand-molded base. Her imagery is similarly eclectic and far-reaching from references to 17th Century French Chinoiserie to the mass-produced kitch object or to the molten sculptural forms of Peter Voulkos.

Francesca DiMattio (b. 1981) lives and works in New York. In addition to her past shows at Salon 94, the artist has had solo exhibitions across the United States and Europe. She would like to thank Kurt Weiser and Tamara DiMattio for their invaluable guidance.