Show and Tell: Calder Jewelry and Mobiles
05 Nov 2013 - 31 Jan 2014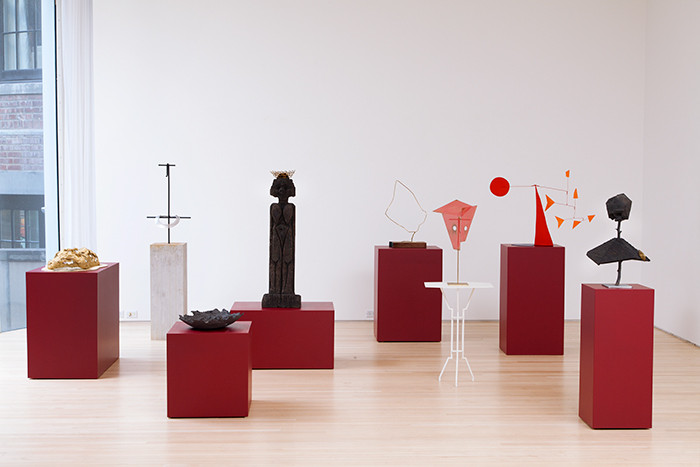 Installation at Salon 94. Works by Alexander Calder. © 2013 Calder Foundation, New York / Artists Rights Society (ARS), New York.
SHOW AND TELL: CALDER JEWELRY AND MOBILES
Hope Atherton, Huma Bhabha, Martin Boyce, Alexander Calder, Abraham Cruzvillegas, Lina Viste Gronli, Mark Handforth, Matthew Day Jackson, Hanna Liden, John-Mercer Moore, David Benjamin Sherry, Mickalene Thomas
5 November 2013 – 31 January 2014

Works by Alexander Calder. © 2013 Calder Foundation, New York / Artists Rights Society (ARS), New York.

In collaboration with the Calder Foundation, Salon 94 is delighted to present Show and Tell: Calder Jewelry and Mobiles. The exhibition celebrates Calder's jewelry-making practice, one that he gave equal priority to alongside sculpture, painting and performance. For the exhibition of these historic pieces, Salon 94 has invited contemporary artists to engage, intervene, perform, enact and incorporate the jewelry into their own practice.

Throughout his life, Calder made over 2,000 pieces of jewelry radically built of humble materials—brass, silver and steel wire, along with wood, string, glass, and ceramic—not the precious gold and polished gemstones traditional to the medium. Often made as gifts and presented with the artist's mobiles and other work, the pieces are modeled like maquettes or compact sketches for kinetic sculpture, incorporating moving elements and found objects scaled to the body. Donning a piece of Calder jewelry—like wearing a mobile—the body performs and enacts the gestures and mission of the sculptural framework.

In a 1940 one-man show at Marian Willard Gallery in New York, Calder constructed painted metal and wood display heads from which he hung pairs of pendulous earrings shaped with wire and repurposed brass cufflinks. These original masks will be on display at Salon 94. Embracing the spirit of the sculptural showcase, the gallery has invited several contemporary artists to riff on Calder's geometric masks and make their own sculptures to house Calder's jewelry. A curlicue crown, for example, is set atop a standing cork figure by Huma Bhabha. Hammered metal earrings dangle from an oversize wire hanger sculpture by Mark Handforth, and a thick banded collar is framed inside the metal armature of a new work by Martin Boyce. Other structures framing the jewelry are by Hope Atherton, Abraham Cruzvillegas, Lina Viste Grønli, Matthew Day Jackson, Hanna Liden, and John-Mercer Moore. David Benjamin Sherry has incorporated the jewelry into his photographic practice, presenting the objects within a layered Josef Albers-like composition of colored shapes and diffuse light which mingle with Sherry's own detailed images of landscape surfaces. Mickalene Thomas has also integrated Calder's pieces into her practice, coronating muscular models with the ornaments and posing them within her brightly patterned, collage-like interiors.

In addition to the 40 pieces of Calder jewelry on display, the exhibition features two mobiles and three standing mobiles. A standing mobile from 1967 has a think and angular black base and wide petal-like shapes in red and blue delicately suspended. A black hanging mobile from 1976 and a red hanging mobile from 1952 are also displayed.

In conjunction with the show, there will be a series of salon discussions on the topics of jewelry, sound, and the archive, as they relate specifically to Calder's life and work. On November 9, Derrick Adams will stage his performance Once Upon A Time... as part of Performa 13.