Insight Into Your Own Lack Of Freedom
13 Nov - 22 Dec 2012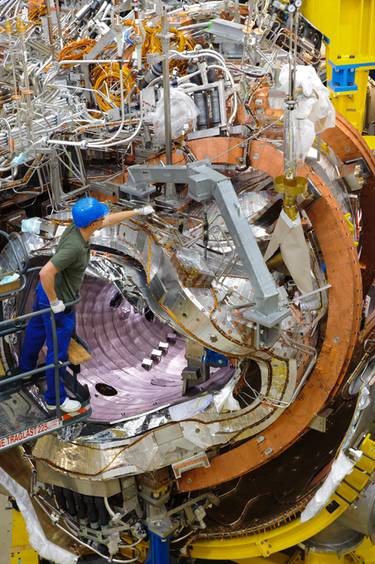 Image of Invitation:
Courtesy of Max-Planck-Institut für Plasmaphysik (IPP), Photo Wolfgang Filser, Wendelstein 7-X
INSIGHT INTO YOUR OWN LACK OF FREEDOM
13 November - 22 December 2012

Lucio Auri, Dominik Eggermann, Simone Gilges, Undine Goldberg, Gregor Hylla, Nikolaus List, Sören Marquardt, Hans-Jörg Mayer, Aribert von Ostrowski, Nina Rhode, Thomas Schroeren, Raaf van der Sman, Valerie Stahl von Stromberg, Klaus Winichner

"Never do as much as you think you can do", once said Baruch Spinoza. That reminds me of the sailor who fell from the top of the mast without injuring himself, stood up and said: Now copy me. What is recollected is repeated backward - a lover recollects his love - but when you repeat you recollect a thing onward. Recollection is repetition. Repetition is reversed recollection.
Not how - why do you lead a gallery that doesn't take part in the 'Kunstbetrieb' (the German word means both, art scene and art market) practically? Doesn't this business also determine about the way of the non-participation, so that whatever I hold for my self-determined act was determined already long ago ... lieson the shelf as my expression?
Is the artwork that I face one or several?
An essence of horror is the pattern of a man returning to his town, things and humans seem unaltered, but everything has been substituted with an identical. Science fiction film changed into this widely common science fiction when the McCarthy era ended, after Film noir and after extraterrestrials films about the enemy from the outside.
Can a piece of art still be an expression and a commodity, or has the expression become part of the commodity meanwhile, together with the replies that follow, like in a hopeless chamber of mirrors?
How to exit this unending present? How to find a language that doesn't abolish itself? How to share meaningful experiences? Where could chants, tender songs, lamentations raise themselves?
And if at the end the commodity is neglected what happens then? Does the art come out at some point again or has it become worthless, failed? How can you get closer to the aim without creating an in and out of phase non-identical duplicate?
The measure of the obligation is to be determined on your own.
The determination is rather not concerned by the knowledge of good or evil. It would be really inadequate to argue: I am free because I am conscious about my actions. I can always want everything and I am allowed to do what society allows. That would be no more and no less than the excuse of the self and its consequences.
Instead, I conceive a prosperous reality, that is to say one that holds logical connections between cause and effect as long as I am willing to allow the connection.
The particularity of Spinoza consists in the fact that he was a "God-drunken man" (Novalis on Spinoza) as well as rationalist. His deterministic theory of liberty begins with the non-finiteness of a substance - only God is causa sui and thus ontologically free - and ends in a causality which makes it possible that man belongs to man.
It's a causality that builds the free will upon the differentiation of internal necessity and external compulsion,which remains always terminable as a contract.