Last Works. From Manet to Kippenberger
28 Feb - 02 Jun 2013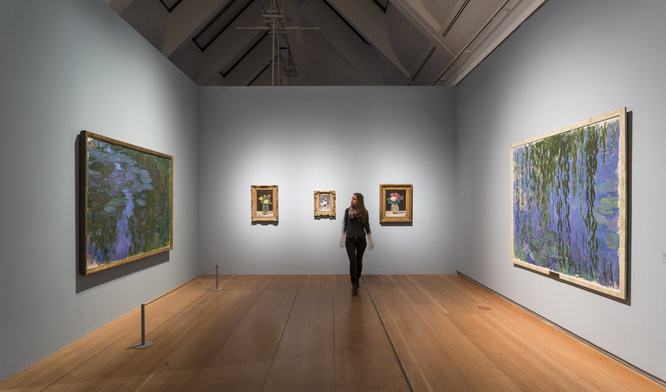 Last Works.
From Manet to Kippenberger
Exhibition view
© Schirn Kunsthalle Frankfurt 2013
Photo: Norbert Miguletz
LAST WORKS. FROM MANET TO KIPPENBERGER
Curator: Esther Schlicht (SCHIRN)
28 February – 2 June 2013

The exhibition is dedicated to outstanding works and groups of works that artists produced in the very last phase of their creativity and which, each in its very own way, mark the end of an artist's life's work.
The show sheds light on the question of a possible conclusion of an oeuvre – with a sharply focused selection of artistic positions from the late 19th century through to the present. Among others, the exhibition showcases works by Édouard Manet, Henri Matisse and Alexej von Jawlensky, not to mention Giorgio de Chirico, Ad Reinhardt and Martin Kippenberger – presented in poetic constellations, in which two artists enter into an exciting, usually unexpected dialog. Famous late works, such as Claude Monet's late water lily paintings or Willem de Kooning's canvases of the 1980s are just as much central to this concept as are surprising "late works" such as Francis Picabia's radically reduced "Dot Paintings", created in 1949, or the "Sky and Cloud Paintings" by Georgia O'Keeffe, which were painted in the 1960s, when the artist was nearly eighty, and depict what was for her the new experience of flying. Each of the artists selected produced a group of works at the end of his or her creative lives whose quality as "final works" offers a particular, sometimes innovative angle on the artist's oeuvre.
The exhibits highlight very different aspects and questions concerning the imminent end of artistic activity: shifts in outlook, newly obtained freedom and self-confidence, reflecting on one's own work, new directions resulting from physical limitations, waning or increased productivity all come into play as do aspects of a disdain for one's fate, chance, and repetition.