Power To The People
Political Art Now
21 Mar - 27 May 2018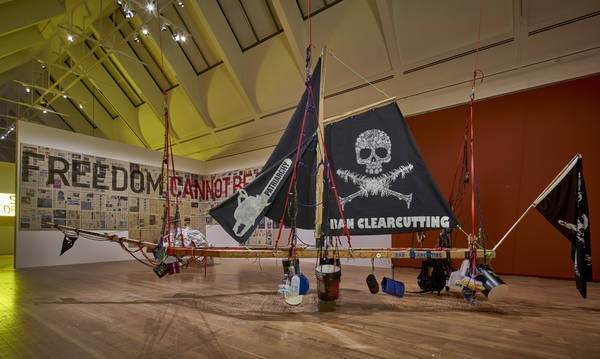 Andrea Bowers, Radical Feminist Pirate Ship Tree Sitting Platform, 2013, Installation view "Power to the People. Political Art Now", © Schirn Kunsthalle Frankfurt 2018, photo: Norbert Miguletz
POWER TO THE PEOPLE
Political Art Now
21 March – 27 May 2018

The Schirn is presenting an exten­sive exhi­bi­tion on the polit­ical art of the present day. Based on a wide variety of different media, such as instal­la­tions, photog­raphy, drawing, painting, and film, Power to the People: Polit­ical Art Now takes stock of contem­po­rary posi­tions that can be read as seis­mo­graphs of polit­ical activity.

Democ­racy appears to be in crisis, the era of post-democ­racy has already dawned. The symp­toms are mani­fold: populist leaders, fake news, auto­cratic back­lash, total­i­tarian propa­ganda, and neolib­er­alism. For some time, however, society has also been expe­ri­encing the path of the art's return to the polit­ical—a re-politi­ciza­tion is palpable. Images of demon­stra­tions in the media have shaped public percep­tion in recent years: waving flags, posters, or banners on streets and squares, at the Women's March, in anti-Brexit campaigns, or in Occupy actions. There have been renewed waves of protest relating to very diverse contexts, coun­tries, and polit­ical systems. This has affected artists as well. They create works that they regard as instru­ments of critique and explic­itly moti­vated by poli­tics.

WITH WORKS BY HALIL ALTINDERE, PHYLLIDA BARLOW, GUILLAUME BIJL, JULIUS VON BISMARCK, ANDREA BOWERS, OSMAN BOZKURT, TOBIAS DONAT, SAM DURANT, OMER FAST, MARK FLOOD, FORENSIC ARCHITECTURE, DANI GAL, KATIE HOLTEN, ADELITA HUSNI-BEY, HIWA K, EDGAR LECIEJEWSKI, JONATHAN MONK, AHMET ÖĞÜT, RICARDA ROGGAN, MARINELLA SENATORE, RIRKRIT TIRAVANIJA, NASAN TUR AND JENS ULLRICH

The exhi­bi­tion Power to the People focuses on funda­mental ques­tions and exam­i­na­tions of the phenomena of and poten­tial for polit­ical involve­ment. Stances are called into ques­tion, forms of protest depicted, and new stages of de-democ­ra­ti­za­tion consid­ered. In doing so, the mech­a­nisms and logic of polit­ical partic­i­pa­tion are addressed, even beyond concrete concerns. Through bringing together artistic posi­tions from all manner of coun­tries—from Germany, England, Belgium, and the United States to Turkey, Israel, or Libya—it hence encour­ages reflec­tion not least on what polit­ical partic­i­pa­tion can look like and the conse­quences it entails in each case.