Diana Al-Hadid
11 Sep - 02 Nov 2014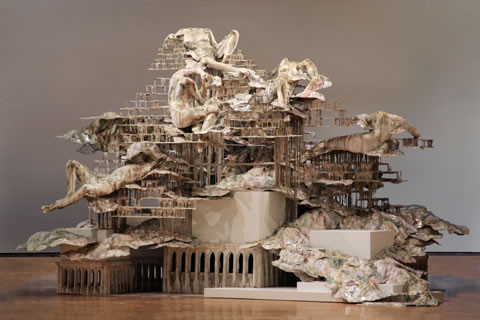 © Diana Al-Hadid
Nolli's Orders, 2012
Photo: Dennis Harvey, image courtesy of the artist and Marianne Boesky Gallery
DIANA AL-HADID
September 11 – November 2, 2014

Invited by the board of the Secession
Curated by Annette Südbeck

The large-format sculptures and drawings of the sculptor Diana Al-Hadid, who was born in Syria and raised in the United States, present complex constellations involving architectonic structures, elements of landscapes, and figurative allusions suspended, as it were, between decay and construction. Built from common staples, her multimedia works look like alien places, bridging distances in time and space. Al-Hadid finds inspiration and figures of reference in gothic and classicist architecture, time machines and black holes, Renaissance and Mannerist painting, mythical narratives, and Islamic ornamentation, as well as mathematical and physical inventions like the water clock the Arab engineer and writer al-Jazarī built in 1206.

In numerous more recent works such asTrace of a Fictional Third (2011) and At the Vanishing Point (2012), Al-Hadid transfers the illusionism of fifteenth- and sixteenth-century European painting into three-dimensional space. The characteristic feature of her sculptures is the balance between ascending stairs or landings and the cascade-like disintegration of platforms; everything seems to float and shift, surging and falling at the same time. The overwhelming visual impression the sculptures produce rests on the interlocking shapes, surfaces, and cavities as well as their subtle palette and the dense texture of constructive elements and materials that seem to drip or melt away.

Diana Al-Hadid was born in Aleppo (Syria) in 1981, grew up in Canton, Ohio (U.S.), and lives and works in New York City.