Nikolaus Utermöhlen
29 Jun - 03 Aug 2013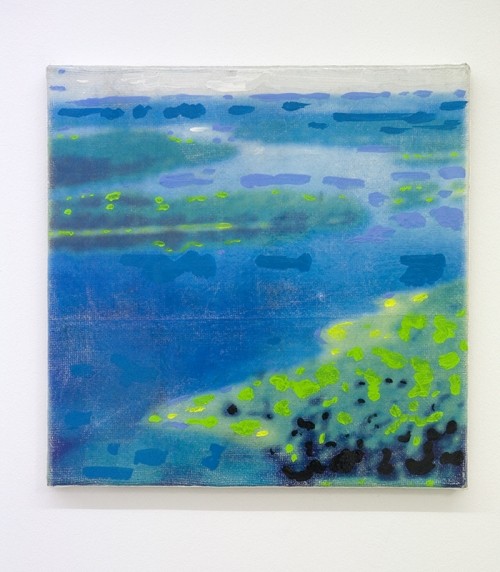 © Nikolaus Utermöhlen
O.T. (Landschaft), 1994
Fotokopie, Acrylbinder, Plaka-Leuchtfarbe, Leinwand
40 x 40 cm
NIKOLAUS UTERMÖHLEN
Endangered Landscapes
29 June – 3 August 2013

SEPTEMBER is proud to show Endangered Landscapes, a series of paintings by Nikolaus Utermöhlen from 1994. In 1980, together with Wolfgang Müller and while still an art student in Berlin, Nikolaus Utermöhlen founded "Die Tödliche Doris," an artists' group and band active in various different combinations until it disbanded in 1987. Käthe Kruse became a member of the group in 1982, and in 1984 Tabea Blumenschein joined as well. The group's conceptually oriented work spanned all areas of art—from the media of film, literature,photography, performance, and video to painting and sculpture. Together with "Die Tödliche Doris,"Utermöhlen was a provider of impulses on the Berlin art and music scene of the early eighties; following the dissolution of the group in 1987, he continued working as an individual artist with the concepts of ambiguity and aesthetic openness until his death in 1996.
Utermöhlen's paintings resemble painting on canvas. The ground of his works, however, is comprised of color photocopies adhered to burlap or metal and worked over gesturally using acrylic binder and pigment. Utermöhlen's tool was the color copy machine, which he used to produce "painterly" effects through the enlargement and distortion of found motifs. Long before programs like Photoshop became available, he employed mathematical formulas on ordinary copy machines to play through a range of possible color superimpositions. His work is marked by post-structuralist theory and the gender and AIDS debates of the 1990s as well as the natural philosophy of Gustav Theodor Fechner and the alchemical and Gnostic thinking of William Blake's visionary art.