Herzog & de Meuron and Ai Weiwei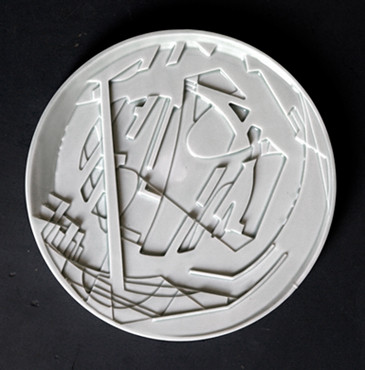 Artist: Herzog & de Meuron and Ai Weiwei
Title: Landscape
Size: 25 cm diameter x 3 cm height
Edition of 10, each stamped. Accompanied by a signed certificate of authenticity
Price: £8,000 (excl. VAT)
By tracing and bringing together the footprint and foundations of the former Pavilions, the architects have carved an astonishing landscape, capturing hints of each structure in their final Pavilion design. This terrain is captured in the form of a Limited Edition hand-sculpted porcelain landscape, which has been produced using traditional methods in Jingdezhen, China. Poignantly memorialising the history of this unique architectural commission, this elegant Edition pays homage to the constructed realities encountered by the architects when conceiving of this year's Pavilion.
Limited Editions by Herzog & de Meuron and Ai Weiwei
'The Serpentine Pavilion is our first project together in the West. It was a very natural feeling to work on it together. It was as if we'd never stopped collaborating and that, I think, is very important' - Jacques Herzog
On the occasion of the Serpentine Gallery Pavilion 2012, designed by Herzog & de Meuron and Ai Weiwei, the Serpentine Gallery is delighted to present three new Limited Editions
The design team responsible for the celebrated Beijing National Stadium, built for the 2008 Olympic Games, has come together again in London in 2012 for the Serpentine's acclaimed annual commission. Presented as part of the London 2012 Festival, the culmination of the Cultural Olympiad, the Serpentine Gallery Pavilion 2012 is Herzog & de Meuron and Ai Weiwei's first collaborative built structure in the UK.
In conjunction with the design of the Pavilion, the team have created three distinct Limited Editions, each intrinsically linked with the different phases of the architectural design process.
www.serpentinegallery.org/2012/06/limited_editions_by_herzog_de_meuron_ai_weiwei.html