Tom Hunter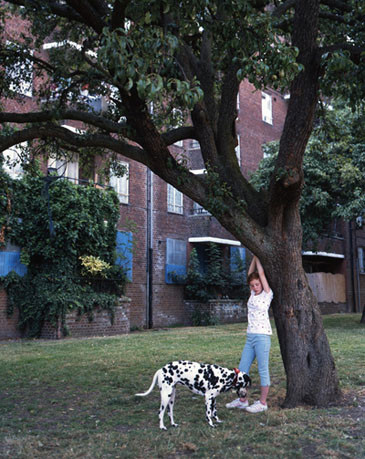 Artist: Tom Hunter
Title: Woodberry
Size: 45cm x 35cm
Edition of 150
Price: £100 excl. VAT (£120 incl. VAT)
"In Hunter's oeuvre, there is a rare harmony to be found in the duality of nods to art history plus voiceable convictions. Each of the twin impulses are felt with harmonious gravity."
From an essay on Tom Hunter by art critic Tim Birch, 2003
On the occasion of the first screening of A Palace for Us by Tom Hunter, the Serpentine Gallery is delighted to present a limited edition print by the artist.
Tom Hunter (b.1965) is a London based film maker and photographer. His work reflects his intimate knowledge of east London while simultaneously making direct references to specific compositions within art history. Often influenced by headlines of local newspapers, Hunter's work explores histories of the area and the relationships he has with the people who live there.
This edition exclusively made for the Serpentine is entitled Woodberry, after the Woodberry Down Estate that was constructed in the aftermath of World War II. Completed in 1962 the estate was herladed as an 'estate of the future', providing 2,500 homes for people living in impoverished accommodation in the area. Today it is the site of a major regeneration project.
Tom Hunter graduated from the London College of Printing in 1994 and from the Royal College of Art in 1997. Solo exhibitions include Life and Death in Hackney, White Cube, London, 2000; Living in Hell and Other Stories, National Gallery, London 2005-2006; Flashback, Museum of London, 2009-2010; and Unheralded Stories at Purdy Hicks Gallery, November 2010 - January 2011. His works are included in collections at the National Gallery, London; Victoria & Albert Museum, London; Los Angeles County Museum of Art; and the Saatchi Collection, London.
This edition and film were commissioned by the Serpentine Galllery on the occasion of the regeneration project and are part of the Serpentine Gallery's Skills Exchange programme in which artists, designers and architects work in collaboration with older people, care workers, young people and activists to exchange skills and develop ideas for social and architectural change.
www.serpentinegallery.org/2010/12/tom_hunter_limited_edition_woo_1.html