Atelier E.B
03 Oct 2018 - 06 Jan 2019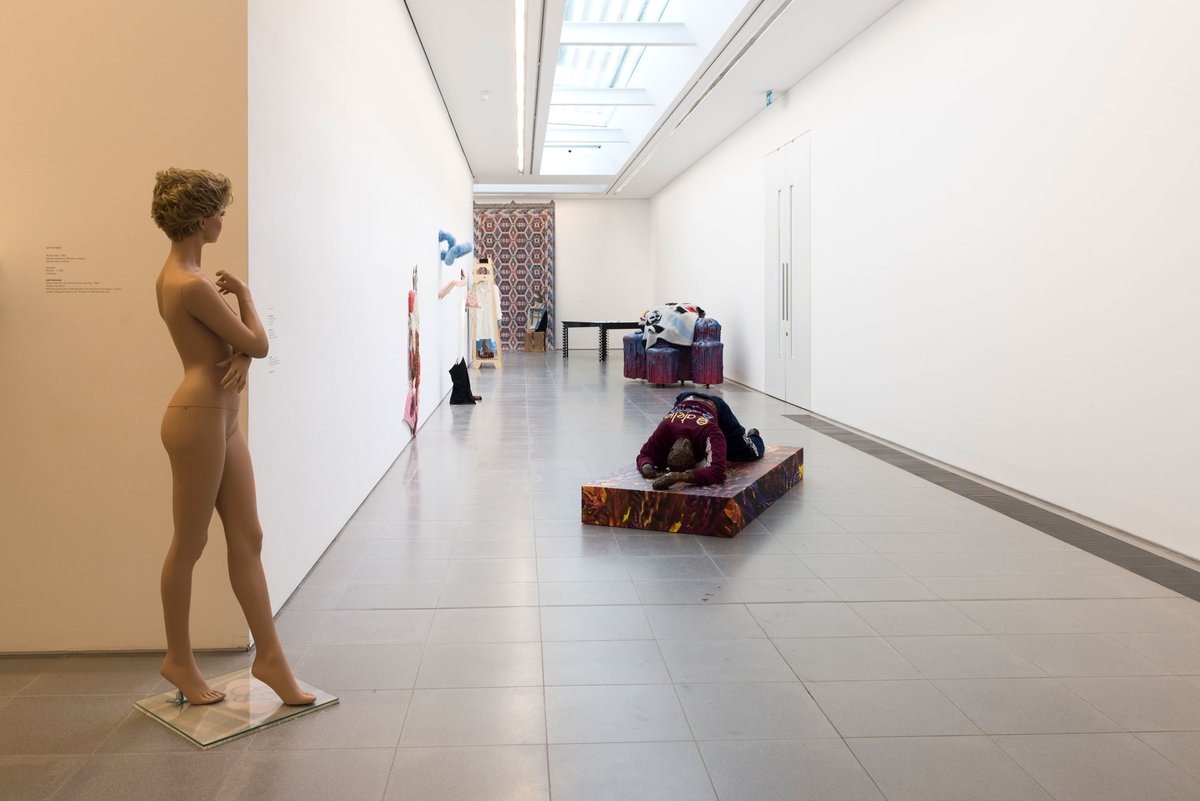 Atelier E.B: Passer-by Installation view, Serpentine Galleries, London, (3 October 2018 – 6 January 2019). Copyright: readsreads.info
ATELIER E.B
Passer-by
3 October 2018 - 6 January 2019

The Serpentine presents Passer-by, a new exhibition by Atelier E.B, the collaborative fashion label by designer Beca Lipscombe and artist Lucy McKenzie.

Taking the figure of the mannequin as its central theme, the exhibition has transformed the Gallery into three distinct interiors: a bespoke showroom for Atelier E.B's latest collection, in which visitors are able to try on and order clothes; a display of historic material, photography and objects, and a series of newly-commissioned works by contemporary artists including Tauba Auerbach, Anna Blessmann, Marc Camille Chaimowicz, Steff Norwood, Elizabeth Radcliffe, Bernie Reid and Markus Selg. Along with collaborations with artists Markus Proschek, Josephine Pryde and Calum Stirling and photographer Zoë Ghertner, the show features the work of more than 30 makers spanning fashion, sculpture, painting, graphic and commercial design, photography, craft and film. Passer-by is a hybrid dreamscape - part World Fair pavilion, part retail emporium – and explores the future of retail display in the digital age.

The Atelier E.B showroom is open at weekends 10am to 6pm for visitors to try on their new collection Jasperwear and order directly through Atelier E.B. A selection of garments and accessories are also available to purchase and take home from our exhibition shop.

Atelier E.B creates fashion collections, commissioned displays and interiors, as well as textiles, live events and publications. At the Serpentine, Lipscombe and McKenzie explore the relationships between art, design, commerce and display. Mannequins are part of the rich history of display in consumer culture and for this exhibition, Atelier E.B has extensively researched their roles in the World Fairs and Expositions of the twentieth century through to iconic department stores, ethnographic museums and fashion retail under Communism.

The Serpentine exhibition explores this research through Atelier E.B's selection of historic sculptures, photographs and objects, including works by mannequin-maker Adel Rootstein, sculptor Rudolf Belling, artist Fred Wilson and fashion photographer Pasquale De Antonis among many others. These interests extend to the history of window dressing and its expert 'trimmers', including Gene Moore, Natasha Kroll and Michael Haynes, whose relationship with cultural institutions created a template for exhibiting contemporary fashion that is enjoyed by the wider public today.

Collaboration is at the core of Atelier E.B's practice, which is characterised by a passion for working with artisan materials and quality-led production methods. For this exhibition, Lipscombe and McKenzie have invited a number of contemporary artists to produce a mannequin or display device on which to present garments from Atelier E.B's previous fashion collections. These artists recognise the cultural significance of clothing within their own practice and are customers and collaborators of the label.

Jasperwear, Atelier E.B's highly anticipated new collection, features cashmere wovens, merino and jersey knitwear, jewellery, tracksuits, shirts, skirts and outerwear, as well as an umbrella, incorporates collaborations with labels and manufacturers they admire, including Vionnet, Ratti and Fulton. The Jasperwear collection is showcased in a series of interiors within the exhibition, including a trompe l'oeil shop window, a dressing room for visitors to try on and order items, new works by Atelier E.B and artists Markus Proschek and Calum Stirling.

Lafayette Anticipations - Fondation d'entreprise Galeries Lafayette, Paris, is co-producer of two new works in the exhibition and will welcome Atelier E.B's Passer-by tour in February 2019, following its Serpentine run. The Serpentine is committed to exhibiting the best in contemporary design through the annual pioneering Serpentine Pavilion commission and past exhibitions including Martino Gamper in 2014 and Konstantin Grcic in 2009. Passer-by will be the Galleries' first exhibition to extend into fashion and will include the work of more than 30 makers spanning fashion, sculpture, painting, graphic and commercial design, photography, craft and film.

The exhibition is accompanied by a digital Mobile Tour supported by Bloomberg Philanthropies.

Atelier E.B is the company name under which designer Beca Lipscombe and artist Lucy McKenzie sign their collaborative projects.

The group was formed in 2007 by Lipscombe and illustrator Bernie Reid, both Edinburgh based, and McKenzie, who is originally from Glasgow and lives in Brussels. In 2011, Atelier E.B. worked with design curators Panel to produce The Inventors of Tradition (2011) in Glasgow, an exhibition, catalogue and fashion collection that examined the legacy of the textile industry in Scotland. This and their subsequent collection Ost End Girls (2013) was sold directly to the public through showrooms in private, public and independents art spaces. The Inventors of Tradition II was presented in Glasgow in 2015, a project that encompassed retail, performance and installation, and which coincided with the release of their collection and sold worldwide, again through a series of showroom installations.