Cerith Wyn Evans
17 Sep - 09 Nov 2014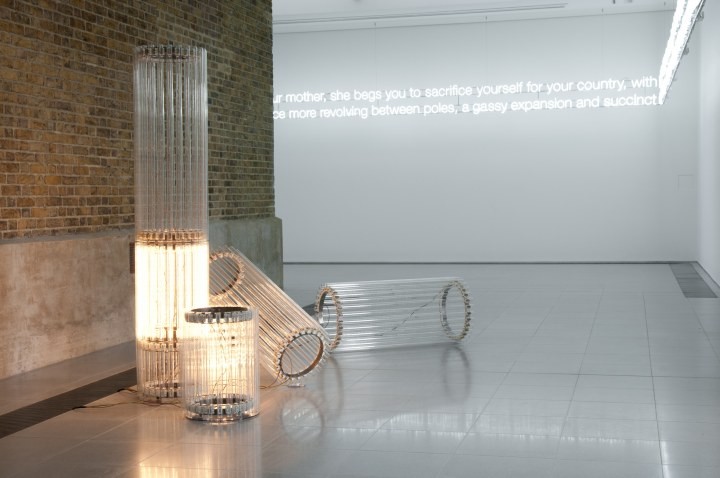 Installation view, Serpentine Sackler Gallery, London (17 September – 9 November 2014). Sponsored by Bloomberg Philanthropies
© 2014 READS
CERITH WYN EVANS
17 September - 9 November 2014

Cerith Wyn Evans' Autumn 2014 exhibition at the Serpentine Sackler Gallery presented a varied body of work brought together 'in concert'. Wyn Evans described the exhibition as "responding to the spaces which examine the transformative 'Site/Sight/Cite' effects that light, sound and duration can have on both spaces and their occupants. The site of the gallery, the perception of sight, the citation of references are multiple and swarming."

Wyn Evans began his career as a film and video maker, producing short experimental films in the late 1970s. Since the 1990s, his work has been characterised by its focus on language and its articulation in space through perception, as well as a precise, conceptual clarity that is often developed out of the context or history of the exhibition site. For Wyn Evans, installations should work like a catalyst, a reservoir of possible meanings that can unravel many discursive journeys. His work has a highly refined aesthetic that is often informed by his magpie-like approach to influences which shape and colour his practice.
The incorporation of text, either as the source of a work or as the final form that it took, addresses this process of interpretation directly. Ornate chandeliers were transformed into communication devices via software systems that translated texts into Morse code, evoking notions of otherworldly communication; neon tubes were bent into quotes that form a frieze of light that runs around the room.

Wyn Evans' references included John Cage, Rainer Werner Fassbinder, Iannis Xenakis, Georges Bataille, James Merrill, Marcel Duchamp, Pierre Klossowski, Hanne Darboven, Gilles Deleuze, Marcel Proust, Sturtevant, Andy Warhol...etc, etc. These sources, even if made visible, are often treated as Readymades and are grouped in synchronicity and contradistinction with one another, enabling any number of potential discourses.

Wyn Evans' use of sound, as well as light, as a transformative and yet intangible medium was a key feature of the exhibition at the Serpentine Sackler Gallery. Mechanical flutes, suspended in the central spaces, sounded throughout the building, while a directional speaker placed on the gallery floor produced a column of sound that drew attention to the surrounding architecture. Lights appeared to inhale and exhale, replicating the rhythm and cadences, intervals and textures of a score. These sounds, lights and above all a neon text that wrapped frieze-like around the entire exhibition space, drew visitors around the building in a choreographed promenade, punctuated by encounters with objects and unexpected vistas.

The Serpentine Galleries autumn programme, including Trisha Donnelly exhibition, Bertrand Lavier fountain and Extinction Marathon were sponsored by Bloomberg Philanthropies, a leading sponsor across the entire autumn season at the Serpentine.

Cerith Wyn Evans
Born in 1958, Wyn Evans has exhibited internationally since the 1980s. Recent solo exhibitions include TBA-21 Augarten, Vienna (2013), De La Warr Pavilion, Bexhill on Sea (2012), Kunsthall Bergen (2011), Casa Luis Barragán, Mexico City (2010), Inverleith House, Edinburgh (2009), MUSAC, Leon (2008), Musée d'art moderne de la ville de Paris (2006), ICA, London (2006), Kunsthaus Graz (2005) and Centre Georges Pompidou, Paris, MIT List Visual Arts Centre, and Museum of Fine Arts, Boston (all 2004). He has also participated in do it Moscow, Garage Museum of Contemporary Art, Moscow (2013), Light Show, Hayward Gallery, London (2013), Aichi Triennale (2010), the Yokohama Triennale (2005, 2008), the International Istanbul Biennial (2005), the Venice Biennale (1995, 2003, 2009, as well as the 12th Architectural Biennale 2010), and Documenta 11 (2002).