Paul Chan
15 May - 01 Jul 2007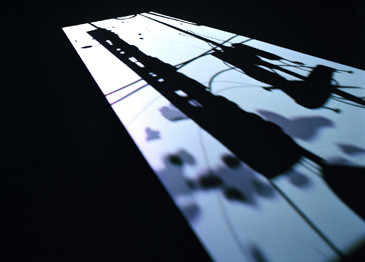 © Paul Chan
1st Light 2005 (detail)
Digital video projection
Dimensions variable, 14 minutes
Installation view at Magasin 3 Stockholm Konsthall
Courtesy of the artist and Greene Naftali Gallery, New York
Photograph © Martin Runeborg
Paul Chan
The 7 Lights
15 May – 1 July 2007
American artist Paul Chan has achieved international acclaim for his drawings, videos and installations that blend a novel drawing aesthetic with philosophical reflections on politics, religion, sex and life today. The Serpentine Gallery is pleased to present the world premiere of the complete series of The 7 Lights, 2005–07, largescale digital projections and drawings that 'hallucinate' the seven days of creation from dawn to dusk. The series explores themes of the sacred and the profane, and temptation and renunciation, in relation to world. The projections are presented on floors, walls and corners, appearing like light and shadows emanating from nearby windows. The 7 Lights compress and animate moving images from the past and the present into the stark fleetingness of shadows as they float in and out of a picture frame that is neither televisual nor cinematic.
Chan's early works include single-channel videos and digital animations projected onto panoramic screens that sample and reference a range of sources from art history to popular culture. The lo-fi digital style of drawing and the inclusion of cultural figures, such as rapper Biggie Smalls and Italian fi lmmaker Pier Paolo Pasolini, belies more serious refl ections on suffering and survival examined in the dystopian narratives. A number of single-channel video works produced by Chan were initially made available for viewing through his website
www.nationalphilistine.com
.
These include an 'ambient video essay' on everyday life in Baghdad four weeks prior to the invasion of Iraq, a film shot in the 'red state' of Nebraska and a portrait of the activist defence lawyer Lynne Stewart who was the first lawyer in the United States to be convicted of aiding terrorists. Born in 1973, Chan spent his childhood in Nebraska and now lives in New York. In 1996 he completed a Bachelor of Fine Arts in Video/Digital Arts at the Art Institute of Chicago and graduated from Bard College with a Master of Fine Arts in Film/Video/New Media in 2002. Chan has had solo exhibitions at: Magasin 3, Stockholm; Portikus, Frankfurt and Fabric Workshop and Museum, Philadelphia, all 2006. He recently presented Untitled Video on Lynne Stewart and Her Conviction, the Law and Poetry at the 2007 Sundance Film Festival, Utah, and his work has also been featured in: Carnegie International, Carnegie Museum of Art, Pittsburgh, 2004; I still believe in miracles, Musée d'Art moderne de la Ville Paris 2005; 8th Biennale d'Art Contemporain de Lyon, France 2005; and Whitney Biennial, Whitney Museum of American Art, New York, 2006.
www.serpentinegallery.org