2012 SECA Art Award
14 Sep - 17 Nov 2013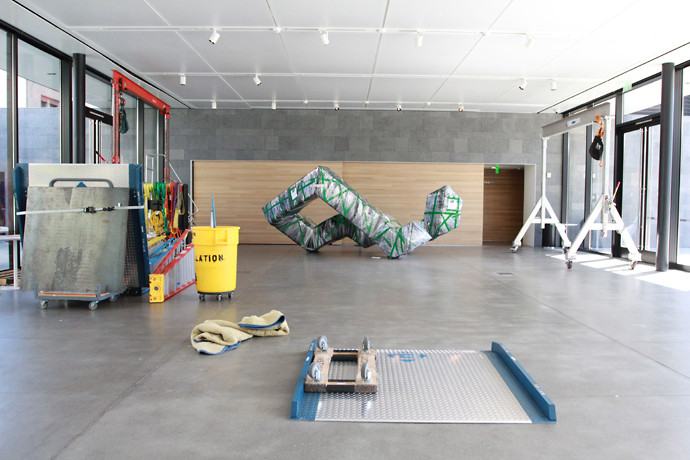 Jonn Herschend
Stories from the Evacuation (still), 2013
HD video, color, sound
commissioned by SFMOMA, courtesy the artist and Steven Wolf Fine Arts, San Francisco; © Jonn Herschend
2012 SECA ART AWARD:
Zarouhie Abdalian, Josh Faught, Jonn Herschend, David Wilson
14 September - 17 November 2013

For the first time in the history of SFMOMA's biennial award program honoring Bay Area artists, the museum has commissioned the four recipients of the 2012 SECA Art Award to create work outside the traditional gallery context. Their site-responsive projects — ranging from drawing to performance, sound, video, and sculpture — will appear in the following locations: Zarouhie Abdalian in downtown Oakland; Josh Faught at the Neptune Society Columbarium in San Francisco; Jonn Herschend on this website; and David Wilson in front of the museum's Third Street building, leading to various sites throughout the city. Documentation of the projects will be featured on this website and in the accompanying exhibition

Zarouhie Abdalian
Zarouhie Abdalian creates subtle interventions into everyday perception. Often bordering on the edge of invisibility, her minimal installations engage with the specifics of a site. Through researching a location's history and physical features, she addresses the dynamics between visitors and a given space, arriving at simple adjustments that transform a viewer's physical or emotional understanding of an environment.

Josh Faught
Mining rich histories of craft, Josh Faught creates sculptures that pair traditional textile and homespun techniques, such as loom-weaving, knitting, and crocheting, with everyday objects that reference domesticity and often feature political slogans and elements of kitsch. His assemblages typically start with raw fibers that he hand dyes with organic materials, such as ground-up cochineal bugs, or covers with artificial substances like spray paint or nail polish.

Jonn Herschend
Jonn Herschend investigates emotional truth, confusion, and absurdity in everyday life through video, film, installation, and performance. His work questions the ways we interpret the validity of information, often through corporate communications tools like PowerPoint and informational videos. He has addressed the institutional messaging of arts organizations in several works, filming reenactments of museum visitors' mundane experiences and installing fictional "disorientation" videos at exhibition entrances.

David Wilson
David Wilson's works on paper and performance-based pieces explore what he describes as "the many lost corners and in-between stretches of natural and developed space" in Northern California. He has organized events at such locations as Angel Island, Wildcat Canyon, and the Marin Headlands. Whether he is working in large groups or in one-on-one exchanges, Wilson's ephemeral projects often involve collaboration with a rich community of musicians, filmmakers, and other artists.