Between Art and Life
10 May 2009 - 03 Jan 2010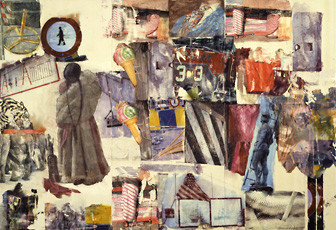 Robert Rauschenberg
Port of Entry, 1998
vegetable dye transfer on polylaminate
Collection SFMOMA, purchased through a gift of Phyllis Wattis; © Robert Rauschenberg Estate/Licensed by VAGA, New York
BETWEEN ART AND LIFE
The Contemporary Painting and Sculpture Collection

May 10, 2009 - January 03, 2010

Presenting a diverse range of artworks made in the last four decades and highlighting the endeavors of many artists working today, Between Art and Life takes its title from a statement Robert Rauschenberg made in 1959 concerning the intersection of art and life. The exhibition reflects on the pluralistic landscape of contemporary art — one where artists investigate personal visions, both poetic and political, in relation to the world around them. Selected artists include Chris Johanson, Kerry James Marshall, Julie Mehretu, Ernesto Neto, Chris Ofili, Robert Rauschenberg, Matthew Ritchie, Zhang Huan, and Andrea Zittel.