Brice Marden
23 Feb - 13 May 2007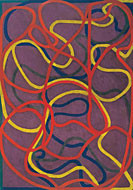 Brice Marden
7 Red Rock 2, 2000-2002
Private collection, Atherton, California
© 2007 Brice Marden/Artists Rights Society (ARS), New York
Brice Marden
A Retrospective of Paintings and Drawings
February 23, 2007 - May 13, 2007

Among the most esteemed American artists working today, Brice Marden tirelessly pushes the bounds of his aesthetic, producing paintings and works on paper that display remarkable elegance and lyrical beauty. This first U.S. retrospective of the artist's work explores his dynamic oeuvre in its entirety. Featuring more than 100 pieces ranging from the 1960s to the present, the presentation encompasses Marden's celebrated monochrome panels of the 1960s and 1970s and the serpentine designs produced in more recent years — plus two new paintings in their public debut. The breadth of the selection offers an unprecedented appraisal of the artist's career and showcases his inimitable ability to unite color, light, and surface.