Double Down - Two Visions of Vegas
18 Sep 2008 - 04 Jan 2009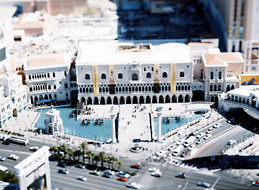 Olivo Barbieri
site specific_LAS VEGAS 05 (still), 2005
single-channel color video installation with audio, 13 min.;
Courtesy of the artist and Yancey Richardson Gallery; © Olivo Barbieri
DOUBLE DOWN - TWO VISIONS OF VEGAS

September 18, 2008 - January 04, 2009

Las Vegas has reinvented itself many times — from desert outpost to Sin City to megaresort — yet still retains iconic status in our collective imagination. Half dream, half nightmare, the city captures a distinctively American mix of gumption and excess. Double Down presents a portrait of this spectacular environment through two recent video works, Olivo Barbieri's site specific_LAS VEGAS 05 and Stephen Dean's No More Bets. Barbieri films Las Vegas from a helicopter, using a tiltfocus lens to render objects out of scale, transforming massive landmarks into souvenir-size miniatures. Dean's film draws us into the city's luminous signs, screens, and surfaces, abstracting the visual excess of Las Vegas and revealing beautiful, unexpected patterns of color and light.