Frida Kahlo
14 Jun - 28 Sep 2008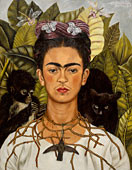 © Frida Kahlo
Self-Portrait with Thorn Necklace and Hummingbird (Autorretrato con collar de espinas y colibrí), 1940
Nickolas Muray Collection, Harry Ransom Humanities Research Center, the University of Texas at Austin
© 2008 Banco de México, Trustee of the Diego Rivera & Frida Kahlo Museums Trust, Av. Cinco de Mayo No. 2, Col. Centro, Del. Cuauhtémoc 06059, México, D.F.
FRIDA KAHLO

Saturday, June 14, 2008 - Sunday, September 28, 2008

Mexican artist Frida Kahlo began painting in 1926, while recovering from a near-fatal bus accident, and soon became captivated by the medium's expressive possibilities. Kahlo's folkloric style, influenced by Mexican popular art, and her fantastical imagery earned her recognition among the Surrealists, but her intriguing persona and unmistakable originality propelled her beyond the confines of a specific movement to become a leading figure in modern art. This exhibition, commemorating the centennial of the artist's birth, brings together paintings that span her career, along with a selection of her own collection of photographs, most of which have never been on public display.