Mark Di Suvero at Crissy Field
22 May 2013 - 26 May 2014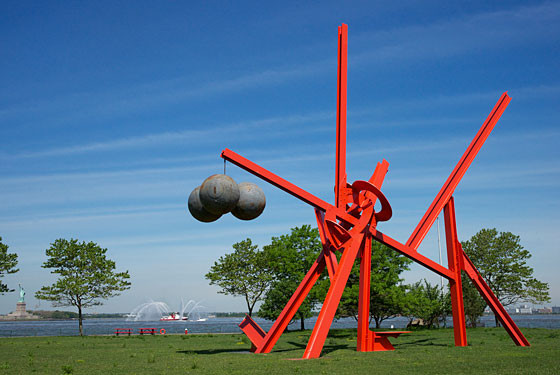 Mark di Suvero
Figolu, 2005-11
painted steel with steel buoys
installation view of Mark di Suvero at Governors Island, presented by Storm King Art Center; Collection of the artist; © Mark di Suvero; photo: Jerry L. Thompson
MARK DI SUVERO AT CRISSY FIELD
22 May 2013 - 26 May 2014

Presented by SFMOMA in partnership with the National Park Service and the Golden Gate National Parks Conservancy, eight monumentally scaled sculptures by Mark di Suvero rise at historic Crissy Field this May for a free yearlong exhibition. Set against the backdrop of the Golden Gate Bridge, a structure that has inspired the artist throughout his career, di Suvero's dynamic steel sculptures frame and reframe the surrounding landscape in surprising new ways. The exhibition brings together works from across the country, dating from 1967 to 2012, celebrating five decades of work by the acclaimed artist.