Martin Munkacsi
12 May - 16 Sep 2007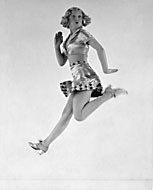 Martin Munkacsi
Gelatin silver print
Operetta soubrette Rosi Barsony in her entrancing
grotesque dances, ca. 1932
Collection F. C. Gundlach
© Joan Munkacsi
Martin Munkacsi:
Think While You Shoot!
May 12, 2007 - September 16, 2007

Martin Munkacsi's photographs celebrate the dynamism, speed, and energy of modern life. From his early years as a sports photographer in Hungary to his innovative photojournalism in Berlin and groundbreaking fashion shoots in New York, Munkacsi dazzled the public with his daringly experimental approach. His pictures inspired some of the great names in photo history — including Henri Cartier-Bresson and Richard Avedon — yet outside of specialized circles his career has been little known. This exhibition brings to light more than 125 pictures, magazine spreads, and print layouts spanning the 1920s through the 1960s, providing a rare opportunity to view a comprehensive selection of his work.