Robert Frank
16 May - 23 Aug 2009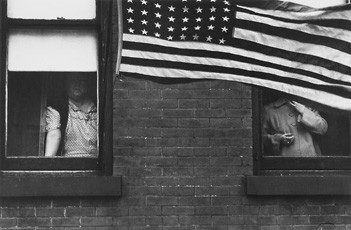 © Robert Frank, Parade—Hoboken, New Jersey, 1955
gelatin silver print, Private collection, San Francisco
LOOKING IN:
ROBERT FRANK'S "THE AMERICANS"
16 May - 23August 2009

Robert Frank's The Americans is widely celebrated as the most important photography book since World War II. Including 83 photographs made largely in 1955 and 1956 while Frank traveled around the United States, the book looked beneath the surface of American life to reveal a profound sense of alienation, angst, and loneliness. With these prophetic photographs, Frank redefined the icons of America, noting that cars, jukeboxes, gas stations, diners, and even the road itself were telling symbols of contemporary life. Frank's style — seemingly loose, casual compositions, with often rough, blurred, out-of-focus foregrounds and tilted horizons — was just as controversial and influential as his subject matter. The exhibition celebrates the 50th anniversary of the book's publication by presenting all 83 photographs from The Americans in the order established by the book, and by providing a detailed examination of the book's roots in Frank's earlier work, its construction, and its impact on his later art.