Six Lines Of Flight
15 Sep - 31 Dec 2012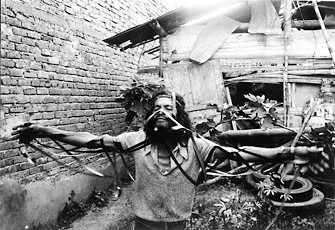 Carlos Mayolo and Luis Ospina
Agarrando pueblo (aka The Vampires of Poverty) (production photo), 1978
16 mm film transferred to video
courtesy Luis Ospina; photo: Eduardo Carvajal
SIX LINES OF FLIGHT
Shifting Geographies In Contemporary Art
15 September – 31 December 2012

This international group exhibition convenes artists from six cities around the globe that have become burgeoning artistic centers: Beirut, Lebanon; Cali, Colombia; Cluj, Romania; Ho Chi Minh City, Vietnam; San Francisco, United States; and Tangier, Morocco. All of these places have active art communities that extend beyond their own regions to become international places of exchange. The exhibition showcases the work of artists who have developed institutions, collectives, or associations that have had a major impact on their respective communities; the contributing artists include Yto Barrada, Tiffany Chung, Wilson Diaz, Futurefarmers, Adrian Ghenie, Joana Hadjithomas and Khalil Joreige, Helena Producciones, Lamia Joreige, Dinh Q. Lê, Victor Man, Oscar Muñoz, Ciprian Muresan, Luis Ospina and Carlos Mayolo, The Propeller Group, Graziella and Jalal Toufic, and Akram Zaatari. In bringing together work by artists whose efforts have anchored each city's cultural scene, this exhibition illuminates the dynamic, global, interconnected spirit of 21st-century art.