Stage Presence
14 Jul - 08 Oct 2012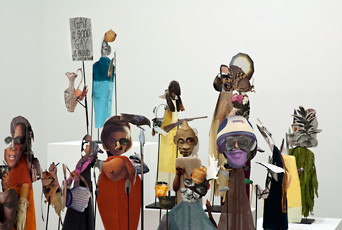 Geoffrey Farmer
The Surgeon and the Photographer (detail), 2009
paper, textile, wood and metal
collection of the Vancouver Art Gallery, purchased with funds from the Jean MacMillan Southam Major Art Purchase Fund, Phil Lind, Vancouver Art Gallery Acquisition Fund, Canada Council for the Arts Acquisitions Assistance Program and the Michael O'Brian Family Foundation
© Geoffrey Farmer; photo: Scott Masey
STAGE PRESENCE
Theatricality in Art and Media
14 July - 8 October2012

Stage Presence shines a spotlight on theatricality in the art of the last 30 years, presenting works in various media that defy the traditional divide between the visual and the performing arts. The notion of performance appears here in a range of guises, from the camp spectacle and subversive humor of 1980s works by General Idea and Charles Atlas, to the formal tableaux of James Coleman's slide projection and Craigie Horsfield's masterful tapestry. Rehearsals and reenactments are examined by Carey Young, Gerard Byrne, and Sharon Hayes, among others. Guy Ben-Ner appropriates IKEA showrooms for guerilla family comedies, while Janet Cardiff's participatory video tour turns SFMOMA itself into a kind of theater. A newly commissioned in-gallery cinema and performance space created by artist Tucker Nichols expands the survey with live events by a variety of artists, including D-L Alvarez and Kevin Killian, Cliff Hengst, Anne McGuire, Shana Moulton and Nick Hallett, Margaret Tedesco, My Barbarian, and Richard T. Walker and daily screenings by artists such as Keren Cytter, Christian Jankowski, George Kuchar, Rosemarie Trockel, and Robert Wilson.