Tim Gardner, Marcelino Gonçalves, Zak Smith
21 Apr - 05 Sep 2006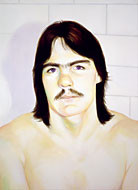 Marcelino Gonçalves
Smalltown Boy, 2005
Oil and graphite on panel
Collection of Nowell J. Karten, Los Angeles
© Marcelino Gonçalves
New Work: Tim Gardner, Marcelino Gonçalves, Zak Smith
April 21, 2006 - September 05, 2006

The latest exhibition in the ongoing New Work series presents the California museum premieres of three artists from across North America. Though they work independently, Tim Gardner (based in Victoria, British Columbia), Marcelino Gonçalves (based in Los Angeles), and Zak Smith (based in New York) share a common interest in combining and alternating among traditional art-making techniques such as painting, drawing, and photography. All three seek to broaden the realist style through a stated commitment to beauty, while exploring the visual expressions of memory, narrative, and desire.