Ebtisam Abdul Aziz, Mohammed Kazem and Khaled Al-Saai
17 Sep 2013 - 19 Jan 2014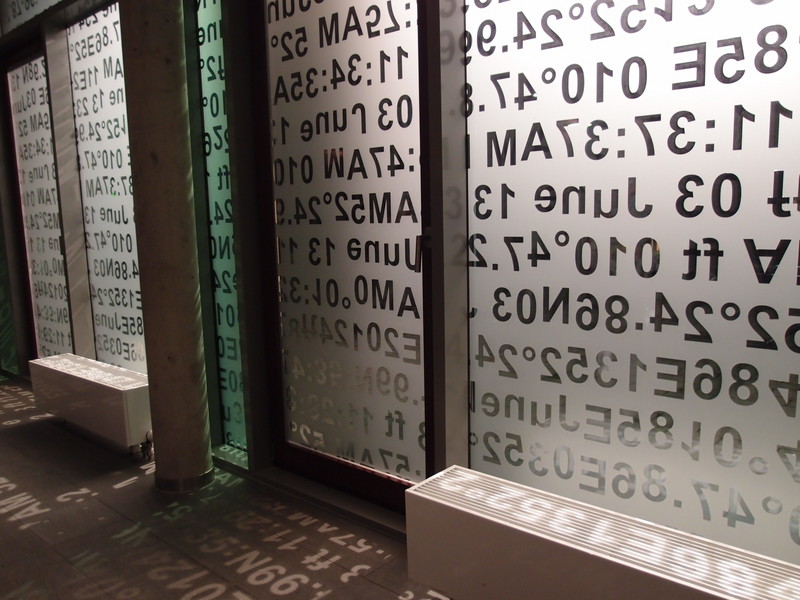 Aus seiner Werkserie "Directions" hat Mohammed Kazem - basierend auf geophysikalischen Daten und mathematischen Berechnungen - eine Arbeit für die Glasfront am Islamischen Kulturzentrum Wolfsburg realisiert.
© Mohammed Kazem
EBTISAM ABDUL AZIZ, MOHAMMED KAZEM AND KHALED AL-SAAI
Die Quadratur des Kreises - 10 Jahre Partnerschaft Sharjah
17 September 2013 - 19 January 2014

The occasion for the planned exhibition is the ten-year anniversary of the lively cultural exchange on an equal basis between the Emirate of Sharjah and the City of Wolfsburg. Like Wolfsburg, which is celebrating the 75th anniversary of its establishment in 2013, Sharjah is also a still young polity. Since the discovery of oil deposits, the Emirate, which is the only one to be situated on both the Persian Gulf as well as the Gulf of Oman, has become a world of contrasts, of contradictions, but also of superlatives. In the middle of the desert, networks of roads, residential areas and high-rise buildings have been created at a breath-taking pace. The artists react to these radical upheavals and the social phenomena connected with them. The exhibition title makes reference to the impossible seeming undertaking of mastering the balancing act between tradition and modernity at the speed of sound, but at the same time also alludes to the Oriental roots of mathematics.