Tomoko Yoneda
23 Oct - 03 Dec 2011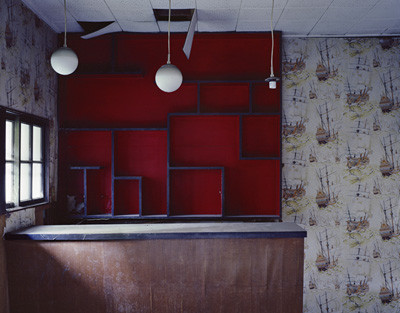 © Tomoko Yoneda
Former house of General Wang Shu-ming, the Chief of Staff under Chiang Kai-Shek, Cidong Street, I, 2010
C-Type Print
65x83cm
TOMOKO YONEDA
Japanese House
23 October − 3 December, 2011

ShugoArts is pleased to present a new exhibition of work by Tomoko Yoneda. Yoneda is well known for creating artworks that explore the invisible history and memories that linger in places and objects. This exhibition includes work that was exhibited in 2010 at the Kuandu Biennale, "Memories and Beyond," and consists of photographs taken at Japanese-style houses built in Taipei during the period of Japanese occupation (1895-1945) – in particular, the house of General Wang Shu-Ming, who was chief of staff under Chiang Kai-shek; the house of the daughter of Japanese wartime-era politician Kantaro Suzuki; and a Japanese house at the Beitou Hot Springs, which were known then as the "Hakone of Taiwan." These residences have survived through the ages, some of them being abandoned and falling into disrepair, others becoming homes of families newly arrived. While residing in Taiwan, Yoneda conducted close research into the history of Taipei and the memories that exist in these old houses. The photographs she took have been printed anew for this exhibition and this is the first time they are being shown in Japan.

Born in Hyogo Prefecture in 1965. Graduated from the Royal College of Art, London, with an MA in photography in 1991. Major solo exhibitions include: "Beyond Memory and Uncertainty," SHISEIDO GALLERY (2003); "A Decade After," Ashiya City Museum of Art and History (2005); "After the Thaw," ShugoArts (2005); "An End is a Beginning," Hara Museum of Contemporary Art (2008); and "Rivers Become Oceans," ShugoArts (2009). Major group exhibitions include: "The Vision of Contemporary Art '99′′ (VOCA), The Ueno Royal Museum (1999); "Non-Sect Radical, Contemporary Photography III," Yokohama Museum of Art (2004); "YOKOHAMA 2005: International Triennale of Contemporary Art: Art Circus – Jumping from the Ordinary," Yokohama (2005); "PhotoEspaña", Madrid (2006); "La Biennale di Venezia, The 52nd International Art Exhibition: Think with the Senses – Feel with the Mind. Art in the Present Tense," Venice (2007); "The 10th International Istanbul Biennial, Not only possible, but also necessary: Optimism in the age of global war," Istanbul (2007); "Beautiful New World: Contemporary Visual Culture from Japan," B.T.A.P, Beijing (2007); "13th Asian Art Biennale Bangladesh 2008," Bangladesh (2008). Yoneda is currently undertaking a residency at Tokyo Wonder Site, Aoyama, through March, 2012.