Yasumasa Morimura
11 Mar - 28 Apr 2010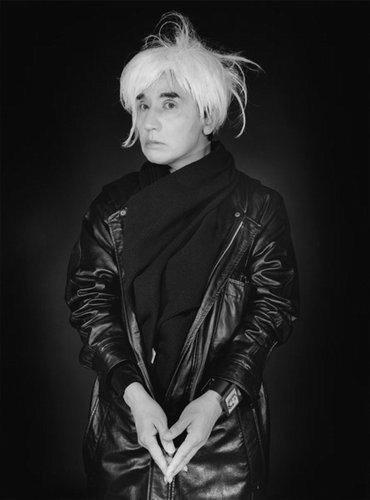 © Yasumasa Morimura
A Requiem: Theater of Creativity/ Self-portrait as Black Andy Warhol
gelatine silver print, 120x90cm
YASUMASA MORIMURA
"A Requiem: An another story"

Mar. 11, Thu., 2010– Apr. 28, Wed., 2010
Closed on Mon., Sun. and holidays

We are now living in the 21st century. But it is not the "dream century" that people imagined it would be. I worry that we have erased our memories of the previous century, the 20th century. We have cleared every last trace of its existence, as though with a bulldozer, and we are now just advancing into the 21st century regardless. What I want to do is stop for a minute, look back at the 20th century and ask, "Is this good enough?" Instead of building the future on a denial of the past, we need to think in the present about how we can inherit what went before. I decided to approach history as the "glue" that would bind the past with the future. I decided I would give a name to my attempt: "Requiem" A requiem is an expression of respect for the people, times and thoughts that have gone. It is a ceremony to preserve those things in our memories. My requiems are a kind of testimony: "I will not forget you."
Yasumasa MORIMURA (from an interview by the okyo Metropolitan Museum of Photography)

ShugoArts is pleased to present a solo exhibition for Yasumasa Morimura titled "A Requiem: An Another Story". The exhibition coincides with "A Requiem: Art on top of the battlefield" a major touring exhibition that will commence from March 11 at Tokyo Metropolitan Museum of Photography and tour to Toyota Municipal Museum of Art, Hiroshima City Museum of Contemporary Art and Hyogo Prefectural Art Museum. At ShugoArts, Morimura will exhibit 20 Polaroid photographs as well as works that will not be included in the touring exhibition, and which have never been exhibited before. The four chapters of the "Requiem" series, which started with the Yukio Mishima work and continued through several famous reportage photographs, portraits of Lenin, Che Guevara and other revolutionaries, 20th century artists such as Picasso and Warhol, will be completed with the historical turning point of 1945: in particular, a white flag raised in a war zone, based on the famous photograph of the raising of the Stas and Stripes atop Mount Suribachi on Iwo Jima. In this way, the fast-forgotten 20th century will be embodied by a single artist, and presented as a path to the future. Some of the 20 Polaroid photographs that were taken during the production of the new Iwo Jima works document the artist's work process, while others contain images very similar to the finished works. In other words, the Polaroid photographs document the very moments that Morimura "became" historical characters or parts of historical scenes. They also convey the depth of his imagination and the process of his thoughts. In this way, we come face to face with the moment of artistic creation. The exhibition at ShugoArts also includes previously unseen large-scale works in which Morimura assumes the identities of famous 20th century artists, such as Andy Warhol and Salvador Dali. These works are closely related to the videos that will be shown at Morimura's touring exhibition. These are uniquely Morimura-esque forms of expression. Without saying too much, he is, after all, an artist who has reinterpreted both photography and video, and created so-called "moving paintings" and "dissolving photographs" in the process. You could say that this exhibition at ShugoArts forms an essential element of Morimura's touring Requiem show. We hope you will consider covering both exhibitions in your publication.

Born 1951 in Osaka. In 1985, began making self-portrait works. Well-known series of artworks include: "Daughter of Art History" based on famous paintings from Eastern and Western art history; "Actress," based on famous characters from films; "An Inner Dialogue with Frida Kahlo,"based on Frida Kahlo; and, "Los Nuevos Caprichos," a contemporary parody of Spanish master Goya's series of prints, "Los Caprichos." Major solo exhibitions include: "Daughter of Art History" at Sagacho Exhibit Space, Tokyo (1990); "Rembrandt Room" at Hara Museum of Contemporary Art, Tokyo (1994); "Actress and Art History" at Yokohama Museum of Art, Yokohama and Luhring Augustine, New York (1996); "Self-Portrait As Art History" at Museum of Contemporary Art Tokyo, National Museum of Modern Art, Kyoto, and Marugame Inokuma Museum of Contemporary Art, Kagawa (1998); "Art History - Yasumasa Morimura" at Fundacion Telefonica exhibit space, Madrid (2000); "The Time with No Name, The Self with No Name" at Chulalongkorn University, Bangkok (2000); "Self-Portraits: An Inner Dialogue with Frida Kahlo" at Hara Museum of Contemporary Art and other venues overseas (2001); "Story of M's Self-Portraits" at Museum Eki, Kyoto and Kawasaki City Museum (2001); "Yasumasa Morimura: Bi-Class, Be Quiet" at Contemporary Art Museum, Kumamoto, and Yokohama Museum of Art (2007); "Yasumasa Morimura: Requiem for the XX Century. Twilight of the Turbulent Gods" at Galleria di Piazza San Marco, Venice, and Luhring Augustine, New York, etc. (2007). Major group exhibitions include: 43rd Venice Biennale (1988); 10th Sydney Biennale (1996); "Hugo Boss Prize: 1996" at Guggenheim Museum SoHo, New York (1996); 3rd Kwangju Biennale Special Exhibition "Human and Gender," Kwangju (2000); "MASQUERADE: Representation and the self in contemporary art" at Museum of Contemporary Art, Sydney (2006); "Prospect.1 New Orleans" at Louisiana State Museum, Louisiana (2008); Busan Biennale (2008); and, Prague Triennale (National Gallery in Prague), etc.