Galerie Kreo in London
23 Sep - 02 Oct 2010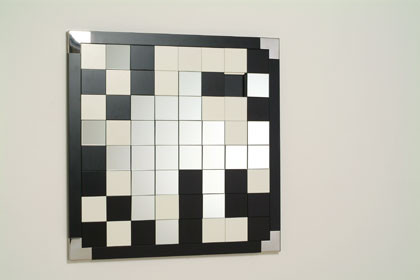 © Andree Putman
"YOUR TURN TO PLAY" MIRROR, 2003
Producer: Galerie kreo
Lacquered wood with stainless steel and mirror
Colours: black and white squares
90 cm, 33.5 in. (length), 90 cm, 33.5 in. (width), 3 cm, 1 in. (depth)
Limited edition of 8 pieces + 2 APs + 2 prototypes
Numbered and signed
GALERIE KREO IN LONDON

23 September 2010 - 02 October 2010

Ronan & Erwan Bouroullec - Pierre Charpin - Konstantin Grcic - James Irvine - Hella Jongerius - Alessandro Mendini - Jasper Morrison - Marc Newson - Andree Putman - STUDIO Wieki Somers - Martin Szekely
Simon Lee Gallery is proud to announce an artistic exchange with the Parisian design gallery, Kreo, which boasts a distinguished collection of limited edition furniture, lighting and objects by internationally renowned designers. Simon Lee Gallery will be inhabiting the Galerie Kreo space, presenting a selection of artworks by some of our own celebrated artists, in a playful exhibition that will re-contextualise the works and question the perceived boundaries between art and design. In a light-hearted nod to Galerie Kreo and the exchange, we will present object based works with utilitarian undertones in the context of a design environment to create a mischievous and original exhibition.