AES+F
10 Oct 2009 - 17 Jan 2010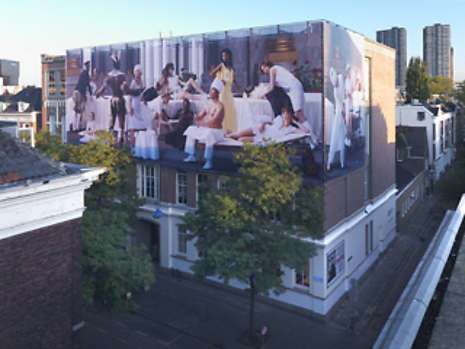 © AES+F
The Feast of Trimalchio , 2009
Courtesy of AES+F and Triumph Gallery, Moscow
Installation view Witte de With, October 2009
Photo Bob Goedewaagen
AES+F
"Between You and I, Intervention 1"

Intervention 1:
The Feast of Trimalchio by AES+F

10 October 2009 – 17 January 2010
Opening hours, 9 October 2009 at 6PM

located in: Witte de With, Rotterdam

Participating artists: AES+F, Isa Genzken,
Maider Lopez and Ayse Erkmen

Between You and I is a joint project by SKOR and Witte de With (Rotterdam Centre for Contemporary Art) which takes place from the autumn of 2009 to the summer of 2010. Four international artists were commissioned to submit a proposal for a contribution to the façade of Witte de With in the form of a critical interface with the urban environment of the city of Rotterdam. As part of Morality, a series of thematic projects presented in Witte de With from October 2009, these contributions attempt to present and define the boundaries between the institute and the public domain once again. Between You and I aims to open up a space in which it is possible to reflect on the contemporary significance of morality, which invites an active contribution from the public about the presence of contemporary art in public space.



The Feast of Trimalchio

The first project in the series, The Feast of Trimalchio by AES+F, is a follow-up of the ironic epic which takes place in the real and virtual contemporary world, an epic which was first presented in the Russian pavilion at the 52nd Venice Biennale. However, the heroic and pointless fight of the immortal gods in a virtual Valhalla has been replaced by an attempt to make a model of Heaven. This model is embodied by the idea of the ideal hotel with guests, mainly representatives of the Golden Billion and its staff. Like the patricians and slaves at the time of the celebration of Saturnalia, the guests and servants switch roles and live out their unattainable fantasies. The characters are connected by an everlasting pleasure in a shared dream. However, there is always a disquieting sense of impending doom amongst the inhabitants of this artificial paradise island.