Daniel Buren
21 Sep 2011 - 04 Nov 2012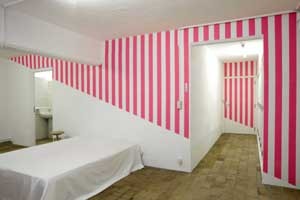 Photo-souvenir: Daniel Buren, Le Décor et son Double, werk in situ, in Chambres d'Amis, Museum voor Hedendaagse Kunst/Raas van Gaverestraat, Gent, 1986. Detail. Foto: Dirk Pauwels
DANIEL BUREN
Le Décor et son Double
21 September, 2011 - 4 November, 2012

For the Chambres d'Amis exhibition in 1986, the French artist Daniel Buren applied his familiar banded motif to the guest room in the house of the art collectors Annick and Anton Herbert. He also installed a copy of the room in the museum at the time. This public half of Le Décor et son Double is now being shown again for the first time and is also being incorporated into the S.M.A.K. collection.

In S.M.A.K. again

Whereas the Herberts preserved Buren's intervention in their guest room, the public copy was lost. Now, 25 years after Chambres d'Amis, thanks to the support of the Flemish Community and the City of Ghent, S.M.A.K. is able to reconstruct the public half of this key work and add it to its collection. This co-ownership creates a direct link and even a certain mutual dependence between the private collector and the public institution.

The substantive cooperation on Le Décor et son Double can be seen as an example of the way S.M.A.K. intends to increasingly integrate the expertise and unique involvement of private collectors into its work. What is more, this project emphasises the particular attention the museum, as an intermediary between art and the public, pays to the interaction between contemporary art, areas of social, political and cultural tension, and public space. Another large-scale exhibition that fits into this framework is TRACK, which, in line with Chambres d'Amis and Over the Edges (2000), will offer thirty international artists the opportunity to occupy the centre and outskirts of Ghent as from 12th May 2012.

Publication

The reconstruction of Le Décor et son Double in S.M.A.K. will be accompanied by a publication and an exhibition, with a reading room and videos by Jef Cornelis, Gilles Coudert, Sébastien Pluot and others. With an essay of Maria Schnyder.

La visite et son double

Now that S.M.A.K. is presenting the 'copy', the museum visitor will also have the opportunity to view the 'original' of Le Décor et son Double again. From November 2011 until August 2012, afternoon visits will be possible every 2nd Saturday in the month.

A guide will lead the visitor to the guest room in Annick and Anton Herbert's private home in the Ekkergem district of Ghent. The accompanying walk takes the visitor to S.M.A.K., where the guide will provide additional background to the life and work of Daniel Buren in the exhibition itself.