Europalia Romania
Ciprian Mureşan
26 Oct 2019 - 19 Jan 2020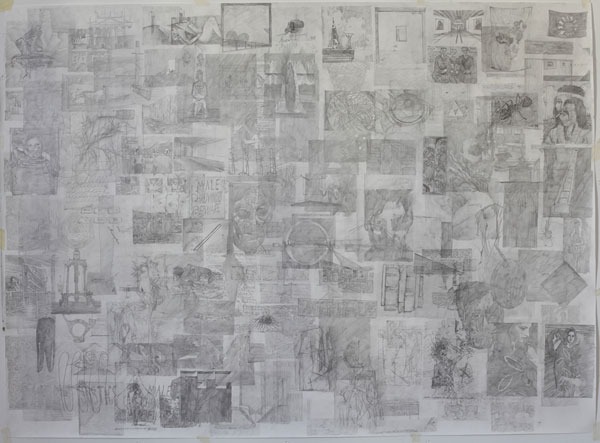 Ciprian Mureşan All the Images from the Complete collection catalogue of S.M.A.K., 2019 pencil on paper, detail
EUROPALIA ROMANIA
Ciprian Mureşan
26 October 2019 - 19 January 2020

Ciprian Mureşan (b. 1977, Dej, Romania) belongs to the generation of Romanian artists who witnessed the ideological shifts that occurred after the fall of the Ceauseşcu regime. His work can be understood against this background of accelerated transition and the blurring of meanings and values. It constantly recontextualizes historical anecdotes, iconic artworks, religious rituals and popular forms of culture and, in so doing, disrupts the well-defined (art-)historical narratives. With a critical attitude and divergent view, Ciprian Mureşan emphasises the peculiarities and ailments of our post-utopian era.

Mureşan's versatile visual language is embodied in a method of reproduction and reference. For this exhibition, the artist has made a scale model of S.M.A.K. for the presentation of a series of so-called 'palimpsest drawings', which he has based on images from the museum's new collection catalogue. In a layered way, he reduces all the artworks in the collection to a post-figurative state: a destructive and at the same time creative act that underscores the absurdity of also depicting this history as a linear story. The exhibition takes this new installation as a starting point for further exploration of Mureşan's subjective approach to time, memory and the processes of historicization.