James Ensor
31 Oct 2010 - 27 Feb 2011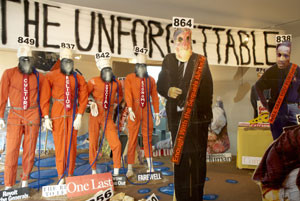 © Thomas Hirschhorn
"Substitution 2 (The Unforgettable)", 2007 Stephen Friedman Gallery, London, 2007 Courtesy Stephen Friedman Gallery, London
JAMES ENSOR
Hareng Saur: Ensor and Contemporary Art
31.10.2010... 27.02.2011

The S.M.A.K. and the Museum of Fine Arts are holding a joint exhibition that examines the relationship between James Ensor (1860-1949) and the work of contemporary artists.

James Ensor can without any doubt be considered as one on of the ground-breaking artists of the 20th century. The recent retrospective exhibitions of his work in New York (Museum of Modern Art) and Paris (Quai d'Orsay) demonstrate clearly that he is internationally acclaimed as a pioneering artist. His importance in the development of modern art (e.g. Expressionism) is demonstrated by the many visits made by artists (Kandinsky, Nolde, Pechstein et al.) to his home in Ostend during his lifetime.

The exhibition Hareng Saur | Ensor and Contemporary Art focuses on the manifold links and associations which can be made between the work of this master and the artistic practices of a wide range of contemporary artists. James Ensor's subjects and attitude are of particular interest at the beginning of the 21st century. Themes such as the mask, the grotesque, social criticism, the self-portrait (and the identification with Christ) and death are all subjects dealt with by many outstanding international contemporary artists. The exhibition reveals some of the connections between different kinds of works and approaches Ensor as a contemporary artist amongst his colleagues and peers.

The title of the exhibition was suggested by one of James Ensor's own works: 'Squelettes se disputant un hareng saur' (Skeletons Fighting Over a Pickled Herring). The title reveals Ensor's unique capacity to play with words, and expresses his humour and the layered quality of his work. At the same time the title contains a truth, namely that even a century later, Ensor's work arouses debate about its impact and relevance. Hareng Saur | Ensor and Contemporary Art will contribute to a further understanding of this importance by juxtaposing Ensor and other artists, and this in an open, clear and generously presented exhibition hosted by two museums.

In addition to a wide selection of the work of James Ensor (paintings, drawings and graphic work) the exhibition will include contemporary painting, sculpture, video, drawing, installation, performance and more.

The exhibition will be organised by the MSK (Museum of Fine Arts) and the S.M.A.K. (Museum for Contemporary Art, Ghent), assisted by an academic committee that includes experts on the work of James Ensor and on contemporary art.

The artists include: Paul McCarthy, Thierry De Cordier, Cindy Sherman, Jonathan Meese, Cy Twombly, Jos de Gruyter & Harald Thys, Jake and Dinos Chapman, Elly Strik, Georg Condo, Guillaume Bijl, Marnie Weber, Patrick Van Caeckenbergh...