Michael Sailstorfer
26 Mar - 03 Jul 2011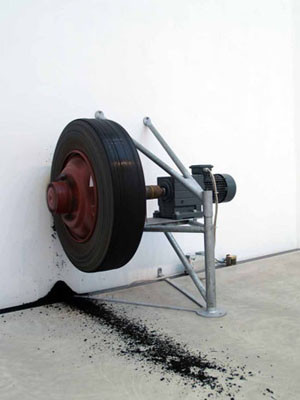 © Michael Sailstorfer, Zeit ist keine Autobahn, 2008
tyre, iron, electronic engine, electric current, wall , 80 x 95 x 65 cm
Photo: Norbert Miguletz. Courtesy: Johann Koenig
MICHAEL SAILSTORFER
Raum und Zeit
26 March - 3 July, 2011

Untamed absurdism, rebellious poetry and melancholy humour characterise the sculptural work of Michael Sailstorfer (1979, Germany).

Everyday objects such as lamp posts, police cars and bus stops are transformed into 'useless' images with a purely aesthetic value. Meaning is generated by means of traditional sculptural processes, thereby enabling the everyday itself to become sculpture. Sailstorfer has an eye for the formal qualities of objects, but he also leaves room for fiction, imagination and romance. He injects life into soulless things, makes trees fly and houses breathe.

Sailstorfer is interested in our personal experience of space. He therefore emphasises the contrast between his images and the place where they thrive. For example, he often takes typical big-city objects which he then places in a rural environment. When he wants to extend this contrast into a museum context, he introduces strange odours and street sounds into the room. In this way, the sculptures grow and their impact transcends their actual physical dimensions.