Informality
14 Aug - 02 Oct 2011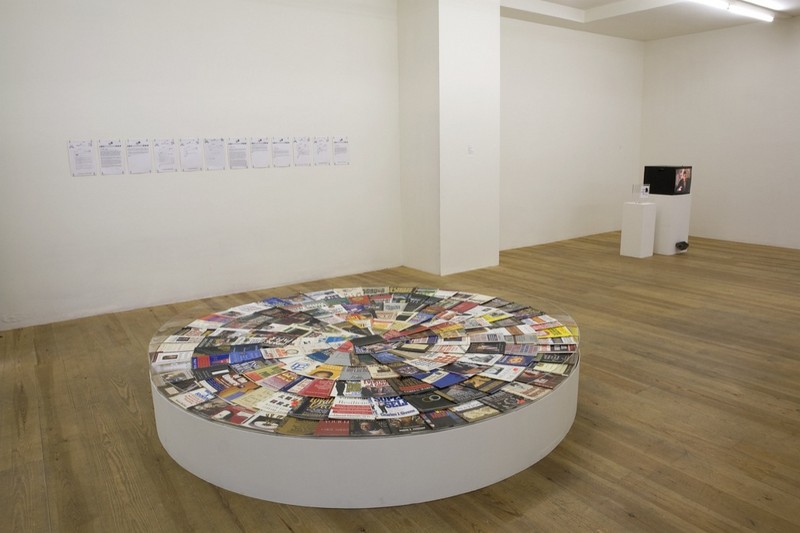 View of 'Informality' at SMBA, Amsterdam, 2011. Foreground: Senam Okudzeto, Capitalism and Schizophrenia, 2003-2010. Background: Doug Fishbone, It's not you, it's me, 2006.

INFORMALITY - ART, ECONOMICS, PRECARITY
14 August - 2 October

Domestic Workers Union / Matthijs de Bruijne / Detour, Doug Fishbone, Kaleb de Groot, Jose Antonio Vega Macotela, Marc Roig Blesa / Rogier Delfos, Senam Okudzeto

The exhibition 'Informality' arises from the increasing attention being given to the role of banks in our economy, and the interest in alternatives to their role. It is also a first reflection on the role of art and artists in an atmosphere of crisis and cuts in cultural funding.

'Informality' focuses specifically on the concept of the informal economy. The informal economy is that part of commercial and the service sector that operates outside of the circuit of formal financial transactions – and thus is hidden from the sight of the Revenue Service and other governmental institutions that control business and economic affairs, and the banks themselves. In the West the informal economy makes up a about 11% of the total economy. On other continents, such as Africa and Latin America, but also in former East Bloc countries, the informal economy often makes up the largest part of the total economy.

'Informality' examines the phenomenon from the perspective of art, involving certain informal aspects of the art world itself in doing so, including the precarious position of the artist in society.

Together with the artist Matthijs de Bruijne, Stedelijk Museum Bureau Amsterdam has organised an evening with presentations by artists and groups focusing on the effort to create greater social solidarity. One of the points of departure for this evening is the lecture by Joost de Bloois, given at the opening of the exhibition 'Informality' in the Stedelijk Museum Bureau Amsterdam, about precarity, art and political activism. Among the questions De Bloois posed in the lecture was whether artists could fulfil a different role in society. In that new role they would be less oriented to individual creative behaviour and affiliate more with groups in our society whose position can be regarded as precarious, and which, as such, share a comparable social position with that of artists. Click here for the text of De Bloois's lecture (in English).

'Participants include Domestic Workers Netherlands / Matthijs de Bruijne / Detour / FNV, Edwin Stolk, Precarious Workers Brigade (London) and Actie Schone kunsten '

The evening's presentations respond to De Bloois's idea of a different division of social roles for artists. After each presentation there will be an opportunity for public discussion.