Agnes Denes
15 Sep - 22 Dec 2012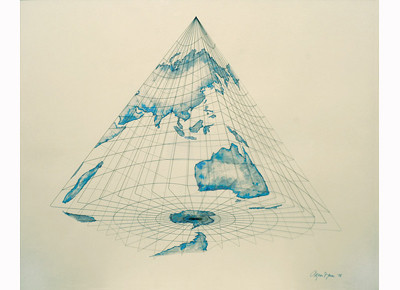 © Agnes Denes
Isometric Systems in Isotropic Space - Map Projections: The Pyramid (The World from Below), 1978
Gouache and ink on vellum and Mylar
24 x 30 inches (sheet)
Private Collection, Los Angeles
AGNES DENES
Body Prints, Philosophical Drawings, and Map Projections, 1969 – 1978
15 September – 22 December 2012

Agnes Denes: Body Prints, Philosophical Drawings, and Map Projections, 1969 – 1978 is an exhibition of seminal drawings by Land artist Agnes Denes. As an influential pioneer of the Environmental and Conceptual Art movements, Denes's artistic practice applies the exacting precision and unwavering consistency of mathematics to the often subjective, tenuous, and unstable concepts of ecological awareness and environmental sustainability. The three discrete bodies of work on view at SMMoA demonstrate how Denes marshals the disciplines of geometry, philosophy, cartography, and the physical sciences to create "Visual Philosophy" —her signature method of illustrating how we exist in the world. The exhibition will be on view at SMMoA from September 15 through December 22, 2012.

Organized by SMMoA's newly appointed curator-at-large Jeffrey Uslip, Agnes Denes: Body Prints, Philosophical Drawings, and Map Projections, 1969 – 1978 revisits the complex theoretical propositions Denes set forth at the onset of her career. For the past five decades, Denes's practice has become synonymous with ecologically driven interventions into the landscape and socially driven approaches that symbiotically engage with the environment. Denes's Body Prints overlay impressions of human breasts and phalluses onto sheets of graph paper to humorously, yet poignantly, transform the body into social critique.

In Napoleonic Series: Investigation of World Rulers I - Napoleon Overlooking the Elba (1971), Denes transfers the impressions of four penises onto graph paper, creating a sardonic allegory for a, perhaps inadequate, representation of male power. Denes locates this drawing on Elba, the island off the western coast of Italy where Napoleon was first exiled in 1814. By contrast, Design of the Universe (1971) reveals a body print of a female breast morphologically likened to the globe in a more optimistic and fertile projection of the future.

Denes's series of Philosophical Drawings appropriates the veracity of mathematical symmetry and geometric codes to provide shape —a visual logic—to ways of being in the world and visualizing invisible passages of time. Map Projections depicts the globe reconfigured in various spatial distortions and three-dimensional shapes, including seashells, dodecahedrons, ova, cubes, and pyramids. While always academically rigorous, Denes never forgoes her insightful wit: in the drawing Isometric Systems in Isotropic Space - Map Projections: The Hot Dog (1976), the world is rendered as an elongated, phallic hot dog. Denes's method of embedding meaning within the structure of geometric forms allows her to interrogate and undermine issues of representation through Cartesian order. Or more poetically, in Denes's words, "I love mathematics because I could humanize it, and in turn it gave me perfection and beauty."

The catalog for this exhibition is made possible by Peter A. Gelles and Eve Steele Gelles and Leslie Tonkonow Artworks + Projects.

Major support for Santa Monica Museum of Art exhibitions has been provided by The Andy Warhol Foundation for the Visual Arts. Additional funding has been provided by the City of Santa Monica and the Santa Monica Arts Commission; Los Angeles County Board of Supervisors through the Los Angeles County Arts Commission; Dean V. Ambrose; Abby Sher; Pasadena Art Alliance; and Frederick R. Weisman Art Foundation.

About the artist:
Agnes Denes was born in Budapest, Hungary in 1931, raised in Sweden, and educated in the United States. She has participated in solo exhibitions at the Corcoran Gallery of Art, Washington, DC (1974); the ICA, London (1979) and retrospective surveys at the Herbert F. Johnson Museum of Art, Cornell University, Ithaca, NY (1992); the Samek Art Gallery, Bucknell University, Lewisburg, PA (2003); and the Ludwig Museum, Budapest, Hungary (2008). Her work has been featured in international surveys including the Biennale of Sydney (1976); Documenta 6, Kassel, Germany (1977); the Venice Biennale (1978, 1980, 2001), and more recently The Last Freedom: From the Pioneers of Land Art of the 1960s to Nature in Cyberspace, Ludwig Museum, Koblenz, Germany (October 16, 2011); Systems, Actions & Processes: 1965 – 1975, PROA Foundation, Buenos Aires (through September, 2011); Erre: Variations Labyrinthiques, Centre Pompidou, Metz (September 12, 2011 – March 5, 2012); and Light Years: Conceptual Art and the Photograph: 1964 – 1977, Art Institute of Chicago (December 11, 2011 – March 11, 2012).

About the curator:
Jeffrey Uslip (b. 1977) is a New York-based independent curator, who has organized exhibitions for PS1/MOMA, New York, Artists Space, New York, Columbia University's Graduate School of Arts and Sciences, California State University, Los Angeles, and LAXART, Los Angeles. He is an online contributor to Art Forum, has lectured at the Whitney Museum of American Art, and is currently a doctoral candidate at The Institute of Fine Arts, New York University.