Al Taylor
21 Jan - 16 Apr 2011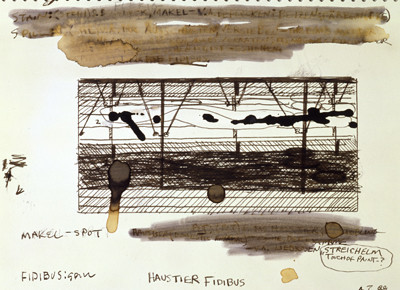 Al Taylor
Haustier Fidibus, 1989
Ink and coffee on paper torn from spiral ring sketchbook
9 x 12 inches
AL TAYLOR
Wire Instruments and Pet Stains
21 January - 16 April 2011

Al Taylor: Wire Instruments and Pet Stains is the first American survey of work by this important and prolific artist. The exhibition features two major series in Taylor's vast oeuvre: Wire Instruments (1989-1990) and Pet Stains (1989-1992). These distinctive bodies of work will illustrate the importance of Taylor's process and creative breadth.

Taylor was born in Springfield, Missouri in 1948. He studied at the Kansas City Art Institute and moved to New York in 1970, where he lived and worked until his death at the age of 51 from lung cancer in 1999. Taylor worked for many years as gallery assistant to Robert Rauschenberg (where he met his future wife Debbie) and was acquainted with such burgeoning luminaries as James Rosenquist, Cy Twombly, and Brice Marden. Although these relationships nourished Taylor's abundant talent, his future work was inspired but not defined by these friendships. Out of financial necessity, he scavenged art materials from the street. His connection with the commonplace--which remained unpredictable and deep--resulted in a body of work that is singular, inventive, and eloquent.

Taylor began his studio practice as a painter in the seventies and early eighties. By 1985, however, he had developed a unique approach to process that encompassed a synergistic relationship between two-dimensional drawings and three-dimensional assemblages. Taylor's goal was to create a new way to experience and envision space; the works from this period helped him refine his investigations of visual perception across several dimensions. "Al felt that his work was research into vision," says Debbie Taylor. "His work is really about looking, but he used everything around him. Seeing something could lead him to making one of these pieces, that could combine with something that he'd read that morning, or with some music playing on the stereo, or with something on TV. Any of those things could inspire him."

Taylor made no distinction between his three-dimensional constructions and his drawings. Dismissing the term "sculpture," he preferred to see the 3-D work as "drawing in space." Fashioned from such simple elements as wooden broomsticks, wire, carpentry remnants, and other ephemera, his constructions offer a multitude of distinct points of view. Taylor's drawings, in fact, often inspired the development of his three-dimensional works, which he created as an extension, in order to "see more." Taylor remarked that "[the work] isn't at all about sculptural concerns; it comes from a flatter set of traditions. What I am really after is finding a way to make a group of drawings that you can look around. Like a pool player, I want to have all the angles covered."

The drawings and constructions titled Wire Instruments show Taylor experimenting with the simplest variations of geometric form (especially the triangle). These fragile ink, pencil, and gouache drawings and wood and wire constructions have not been the focus of any previous exhibitions or scholarly investigation. Their simplicity and ephemeral beauty provide a poignant glimpse into Taylor's creative production.

The body of work called Pet Stains (which includes Pet Stains, Pet Names, and the Peabody Group) portrays sensuous, abstract imagery of drop-like puddles, formulated with toner, paint, or ink on paper. The constructions in this series are made from wood and Plexiglas that is dribbled and dripped with paint of every viscosity. In this series, Taylor transformed patterns of dog urine on an urban sidewalk into art. The playful ease and subtle humor of these works is apparent: various pee-stains are often tagged with imaginary names of the dogs/artists who made them--Buddy, Norman, Getty, Goya, and Everready or, with a nod to Duchamp, given such titles as Puddle Descending a Staircase, Network of Stoppages, and so on. Again, as in Wire Instruments, permutation and variation on the theme is integral to his process--how many pet names, how many puddles of pee can he transform into nuanced drawings or quirky constructions.

Wire Instruments and Pet Stains will include 47 works. Connie Butler, The Robert Lehman Foundation Chief Curator of Drawings at the Museum of Modern Art, will contribute a major essay to accompany the exhibition.

Major support for this exhibition is generously provided by the Andy Warhol Foundation for the Visual Arts, and Susan and Leonard Nimoy. In kind media support is provided by KCRW 89.9 FM.