Henry Taylor
13 Sep - 13 Dec 2008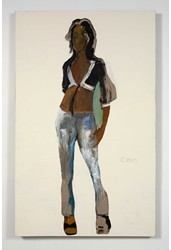 © Henry Taylor
Clean, 2006
Mixed media on linen
77 x 47 1/2 inches
Courtesy the artist and Sister, Los Angeles
HENRY TAYLOR
"Girrrrrl!"

September 13 - December 13, 2008
Project Room I

Henry Taylor: Girrrrrl! is the first West Coast museum exhibition of this Los Angeles artist whose paintings poignantly examine the social, political, and racial disparities that persist in the United States. Girrrrrl! includes four new works depicting scenes from Taylor's personal life and urban community.
Taylor uses lush strokes, an exuberant color palette, and the language and logos of products and pop culture in his vivid portrayals of friends, loved ones, local characters, childhood memories, and neighborhood landscapes. The deftly painted surfaces— sometimes carefully rendered and sometimes purposefully unfinished—give the works a tangible immediacy. Taylor's experience with poverty and homelessness, before his enrollment at CalArts, compellingly inform his practice. His work serves as a reminder of the existence of the economically disenfranchised, who he observes with an acute eye to detail and a profound insight into the human condition.
Taylor has chosen an exhibition title that plays on a humorous duality—of familiar urban language and the the rarefied artworld. He warmly refers to his mother, sister, and close female friends while also making a sly allusion to the iconic Roy Lichtenstein print, Grrrrrrrr!, that features a growling, aggressive dog.